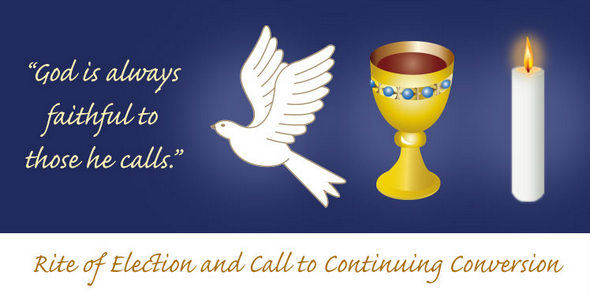 Those preparing to be baptized and fully enter into the life of the Catholic Church will participate in the Rite of Election and Call to Continuing Conversion in Caribou, Bangor, and Portland on February 20 and 21, the first weekend of Lent.
During the Rite of Election, catechumens (those who have not been baptized in any Christian faith tradition) publicly express their desire for baptism to the bishop. Their names are recorded in the Book of the Elect, a designation which reflects that the bishop, in the name of the Lord and the local Church, is choosing or electing them to share in the Easter sacraments. Candidates (those who were baptized in another Christian faith tradition) celebrate the Call to Continuing Conversion, publicly professing their faith and their desire to come into full communion with the Catholic Church.
Rite of Election and Call to Continuing Conversion Celebrations
Saturday, February 20, 2021
Holy Rosary Church, 34 Vaughn Street, Caribou
1:30 p.m. Mass ( also live stream)
Sunday, February 21, 2021
St Mary Church, 768 Ohio Street, Bangor
11:00 a.m. Mass (also live stream, look for stream from St Mary's)
Sunday, February 21, 2021
Cathedral of the Immaculate Conception, 307 Congress Street, Portland
5 p.m. Mass (also live stream)

During the Rite of Election and Call to Continuing Conversion, parishes present the catechumens and the candidates to the bishop and the congregation. The catechumens and candidates affirm their desire to enter fully into the life of Christ through the Catholic Church. Godparents and sponsors are then asked by the bishop to affirm that the catechumens and candidates are sufficiently prepared to continue their journeys of faith. The congregation, along with the godparents and sponsors, follow this testimony by pledging their support and prayers for those in preparation.
The catechumens and candidates will spend the season of Lent reflecting and preparing to receive the initiation sacraments. The days of Lent are the final period of purification and enlightenment for catechumens and candidates, marked by prayer and study, and spiritual guidance from the priests and parish teams with whom they work.
The celebration of the sacraments of initiation will take place during the Easter Vigil on April 4 and throughout the Easter season. The catechumens receive the sacraments of baptism, confirmation, and first Eucharist, while the candidates complete their initiation by making a profession of faith and receiving the Sacraments of Confirmation and Eucharist by sharing in their first Holy Communion.
A special section has been created on the Diocese of Portland's website featuring resources to assist Catholics during their Lenten journey, including Mass times, special event listings, a Lenten calendar, faith formation and Scripture reflections, retreat information, ways to share their gifts, and Lenten messages from Pope Francis.