For 50 years, Steve and Kathy Beirne have been celebrating the joy of love.
"We not only are married, but we love marriage," says Steve.
They view their marriage as a gift that they have received from God and as a call to mirror his love.
"This really is a call to holiness. This really is God's path for us," says Steve.
Their life together has been so fulfilling that they have spent decades trying to help others discover what they have. Their work has included offering marriage preparation and enrichment programs, writing books and newsletters, presenting retreats, and more.
"We see ourselves as cheerleaders for marriage," says Kathy.
"We think it's good not just for us but for others, and we would like to share the joy of that with others," says Steve. "I've chosen my vocation and my life to be the same thing. I do what I am.
Steve and Kathy were married on March 27, 1967. They met seven years earlier during a high school production of "The Mikado," when Steve was a senior and Kathy a sophomore. Their first encounter wasn't a particularly smooth one.
"I heard this voice say, 'Are you going to be a nurse, a secretary, or a teacher when you grow up, because that's what girls always are,'" recalls Kathy. "I said, 'I'm going to be a chemical engineer!'"
"Then, she went out on stage, and I thought, 'Wow, I really blew it,'" says Steve.
"My daughters say to me, 'Why did you ever talk to him after that?'" Kathy says, laughing.
But, they saw each other again during an outing at the end of the school year and discovered a mutual appreciation for the works of Christian author C.S. Lewis. Steve was reading his fairy tales at the time and mentioned them to Kathy.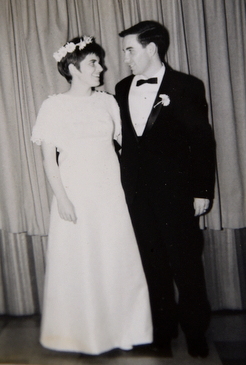 "We saw the spiritual and theological implications in those stories, and we were really surprised to find someone else who knew about them," says Kathy.
Faith was one of the things that brought Kathy and Steve together. Both came from strong Catholic households, although quite different ones. Steve describes his Catholic upbringing as being devout, while Kathy's family took a more intellectual approach.
"We had statues of the Blessed Mother and the Sacred Heart all over our house," says Steve. "We went to novenas. We said the family rosary."
"We had books about Mother Katharine Drexel and Saint Robert Bellarmine, and we had arguments at the table about the nature of grace. It was a much different kind of Catholic upbringing but, also, very vibrant," says Kathy.
When he was a child, Steve said people would often ask him if he was going to be a priest, but he says he felt called in another direction.
"When people asked me what I wanted to be when I grow up, I would say, 'I want to be a husband and a father.' I think it was because my parents seemed to have such a beautiful, beautiful marriage, and my father was just a very devoted husband and father. I admired their marriage very, very much," he says.
Although they attended college in different states, they remained in touch: Kathy writing to him every day; Steve writing back every week or two.
Then, when Kathy was a junior in college, her brother died following a lengthy illness. Sorrow brought her and Steve even closer.
"That was really pertinent to our relationship because Steve was such a support," Kathy says. "He was totally there for me, and he really won the respect of my whole family at that point."
"I felt so helpless in the face of this tragedy that was occurring, and I wanted to do something," Steve says.
The two married shortly after graduation. Steve, who had a theology degree, was teaching at a Catholic high school in Long Island, and Kathy, who had switched her major from chemistry to English, was doing social work. Steve then started working in religious education, first in Morristown, N.J., and then at Saint Eulalia Parish in Winchester, Mass., where 1,000 children were enrolled in the religious ed. classes. While he was there, the parish switched to a family model of instruction, which brought to light the important role couples and families play in the life of the Church.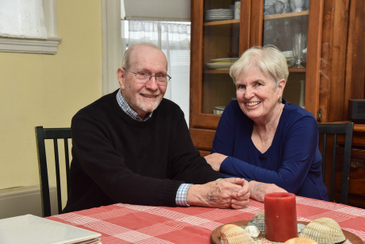 "Meeting with families, we really saw, at that point, how important it was that the marital union strengthen the family, and the family then strengthens the parish and the community," says Steve.
"We really got interested in that formational piece," adds Kathy.
The couple's work continued in Jefferson City, Missouri, where Steve was hired for a new Office of Family Life Ministry. Although Kathy was busy raising the couple's growing family, she always remained involved in his work, which included marriage preparation and enrichment, as well as family ministry.
Steve remembers offering well-received workshops that brought teens and parents together.
"In families, dad goes off to his job, mom goes off to her job, junior goes off to high school, daughter goes off to elementary school, and when they come back together, they have only a precious few hours a day to be a family, and sometimes, it's hard to know how to do that, so it was to give them an opportunity to spend together," says Steve.
The couple brought the program with them when Steve was hired to be family life director for the Diocese of Portland in 1984. He still remembers the wisdom of Bishop Edward O'Leary.
"One of the first things he said to me was, 'This is a big diocese. It won't do any good if you travel all over the diocese to help other families, and your family gets in trouble, so please keep your marriage and family a priority.' I thought, 'What an incredible gift for a bishop to say to an employee,'" says Steve.
It is advice Steve and Kathy have long taken to heart. Outside of work, they always make a point to socialize together.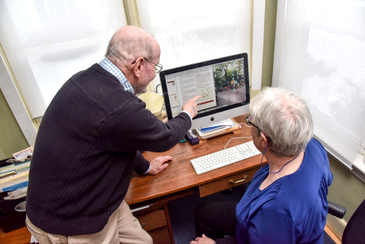 In his apostolic exhortation, Amoris Laetitia, Pope Francis writes, "Every day, the family has to come up with new ways of appreciating and acknowledging its members." Steve says that was a gift Kathy gave to their family early on.
"One day, Kathy said to me, 'Do you love me?' I said, 'Yes, honey, I love you.' And she said, 'Why?' And I said, 'Well, because you're beautiful, and you are one of the most intelligent people I've ever met, and you have a wonderful sense of humor.' And she said, 'Oh, OK.' Then, about a month or two later, she said, 'Steve, do you love me?' And I said, 'Yes, I love you.' And she said, 'Why?' And I again said, 'because you're beautiful, and you're intelligent, and you have a great sense of humor.' And she said, 'You already gave me those reasons. I want new ones.' And that's been going on our whole family life."
Steve calls it an incredible gift because it has helped him to pay attention to the evolution of their relationship.
Their life together has been one full of celebrations. The 27th of every month is always an occasion because that was their wedding date. They don't just observe Christmas in December but, also, Saint Nicholas Day and Saint Lucy's Day.
"We make a Three Kings cake on the sixth of January. We put a nut in it, and whoever gets the nut is lucky for the year," says Kathy.
They say it is a way to recognize that every day is a gift from God.
"What is it that makes the days and months and years go by and not just became a blur? It's the rituals and the celebrations that we have that mark this time that God has given us as special," says Steve. "That's what makes life so joyful to me. I think there is something built into us that says, 'God has given us this day. Let us rejoice and be glad!'"
The importance of having such rituals is one of the many messages the Beirnes share in their work in marriage ministry, which has taken many forms through the years.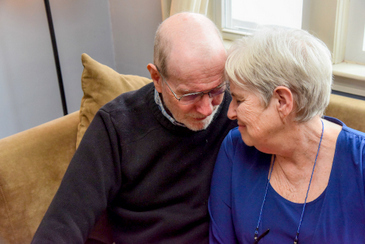 In 1993, working in partnership with the National Association of Family Life Ministers, they began writing and publishing "Foundations," a newsletter for the newly married. Focusing on issues related to communications, family of origin, sexuality, spirituality, careers, and finances, it is still sent out bimonthly, having reached approximately 200,000 couples through the years.
"When we started 'Foundations,' it was to strengthen couples in the first, few critical years of marriage because the highest percentage of divorces happen within the first three years," says Steve.
Using much of what they learned through writing "Foundations," the Beirnes authored a book Catholic & Newly Married, a quick read that outlines five challenges / opportunities as couples begin married life.
"Steve took the challenges, and I took the opportunities," says Kathy.
The Beirnes also developed FACET, an educational tool for engaged couples, which aims to help them look beyond their wedding days to their lives together. Used in several dioceses, it poses a series of questions about finances, children, careers, habits, and perceived roles in marriage, among other topics.
"The things that you know, the things that you believe, the unspoken expectations that you have," explains Kathy.
The Beirnes have also led the Unitas marriage preparation program at the Cathedral of the Immaculate Conception in Portland for 16 years. The program, based on the RCIA model, pairs engaged couples with married, sponsor couples, and for seven weeks each spring, they journey together.
"You get away from the craziness of wedding preparation and really talk about your relationship and your hopes and dreams for your life together," says Steve. "We say that we're not just preparing couples for marriage; we're welcoming them into a faith community."
While not all couples look forward to participating, Kathy and Steve say most change their mind along the way.
"We have couples almost every year saying, 'I was dreading coming to this program; I was afraid that you were going to try to convert me.' Or, 'Seven weeks is way too long; it's going to be boring.' And, afterwards, they say, 'We just had a fabulous time. Thank you for offering this program,'" says Steve.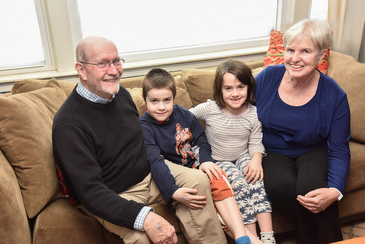 Kathy and Steve's newest endeavor, funded through a grant from the Catholic Foundation of Maine, is "Fulfilling God's Dream for Us," days or evenings of reflection being offered for married couples at four parishes around the diocese.
"We're calling it a retreat, although we want people to think of it kind of like a date," says Kathy.
Reflection days have already been held in Fort Kent and Augusta, and a third is coming up at Saint Maximilian Kolbe Parish in Scarborough on Sunday, March 12.
"I really am convinced that people need an opportunity to get away from the many distractions in their life, to have quality time together, and that is really what a retreat or an evening of reflection is all about," says Steve.
The Beirnes also plan to put together a toolkit to make it easy for other couples to lead similar gatherings in the future.
Steve and Kathy say all marriages hit rough patches sometimes, including theirs, and their goal is to give couples the tools they need to work their way through them.
"The biggest reason people say that they get divorced, the number one reason, is that they have lost touch with each other. They've grown apart. And that is fixable. It just requires a little bit of attention, and that is what we're trying to do," says Steve.
"One of the things we tell couples all the time is that your memories are money in the bank. Those stories are the things that sustain you through the tough times and the arid times, and that's certainly been true for us," says Kathy.
Although always kindred spirits, Steve and Kathy say that doesn't mean their relationship didn't need nurturing. Now, however, they can't imagine anything disrupting what they have built.
"Just being together, doing stuff together, has enriched our lives so much," Steve says.
They are the parents of seven children, the grandparents of five, and after 50 golden years, Steve still reaches for Kathy's hand, shares a kiss, and comes up with new reasons why he loves her.
"Oh, those pancakes were amazing!" he says, as they share a laugh.