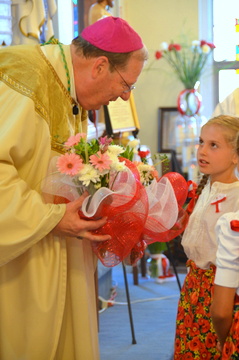 Sitting beside the stained-glass window that bears their grandparents' name, Judith Pistaki Zelisko and her sisters remember with fondness the proud past of Saint Louis Parish in Portland.
"My grandfather helped build the church. They gave their time and materials. It was all volunteer," says Judith, who grew up in Portland but now lives in Chicago.
"I remember going to the stations of the cross. We would always sit on this side because of the window," says Pat Pistaki Marshall.
The parish, which was founded in 1915 to serve a growing Polish immigrant community, is marking its 100th anniversary this year, and in September, past and present parishioners and priests joined with Bishop Robert Deeley to celebrate.
"In all of this time, this hundred years, the parish of Saint Louis has been a place of welcome for the Polish community and a place where the new people arriving can find a home where the words of faith, so central to the identity of the Polish people, can be nurtured and celebrated," the bishop said during the anniversary Mass.
At the time Saint Louis was established, there were approximately 250 Polish families. Recognizing that their spiritual needs were not being met, Bishop Louis Walsh asked Father John J. Sciskalski, who was leading a mission for the community, to stay and help organize a new parish. Masses were originally celebrated in the basement of Saint Dominic Church, but the Polish Catholics wanted a church of their own.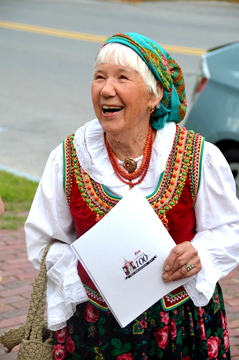 "They were having one Mass on Sunday evening down at Saint Dom's Church, and after a few years, they were able to get enough money together to purchase a piece of land and build a church. They worked very hard to do so," says Penny Kinney-Kimball, who has attended the church her entire life.
"They believed in community and believed in helping out the church," says Judith.
The red brick church, which still stands today, opened in 1924 with Father Peter Pojnar as pastor. Father Pojnar, who had previously served the Polish community at Saint Dominic Church, continued to do so for another 35 years until his death in 1959.
In 1949, Monsignor Vincent Tatarczuk became the first native son of Saint Louis Parish to be ordained. He would go on to serve five bishops and to make numerous contributions to the diocese, including helping to establish the forerunner of Catholic Charities Maine.
While the Polish immigrants who built Saint Louis Church were those who arrived during the late nineteenth century or during World War I, there were subsequent waves of immigration during World War II and in the 1980s, when the rise of the Solidarity Labor Movement led to the fall of Communion.
"New arrivals are less today. Gratefully, there is less need to flee the totalitarian governments of the last century," the bishop said. "As we gather today, it might be with the prayer that the gift of faith, which was such a unifying force through the years of hardship in Poland, might continue to be the light by which the people continue to live."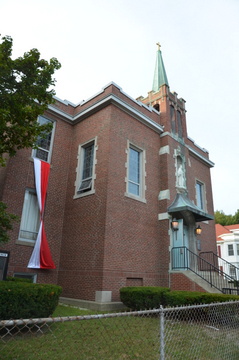 "There has always been a real kernel of deep faith at Saint Louis," says Tamara Konczal, a parishioner. "I've always felt really connected to the people and to the culture. But I think some of it is the charism of John Paul. When I started coming here, he was still the pope."
"There is still a strong connection to European Catholic spirituality," adds Bob, her husband.
That is evidenced in the cultural and religious traditions that continue to be embraced at Saint Louis.
For the anniversary Mass, hymns and readings were shared in both English and Polish, and the church was adorned with Polish flags and with red and white flowers, bows, and ribbons, including those on lapels and in children's braids and ponytails.
Some of the youngest parishioners presented the bishop with gifts of bread, salt, and flowers. In Polish culture, bread is considered a gift from God, and salt, which comes from the earth, represents life's necessities. Both are signs of welcome and hospitality.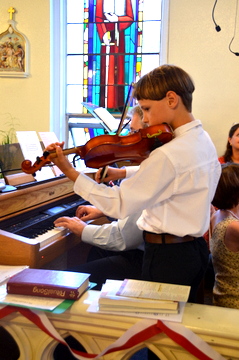 Other customs still carried on by Saint Louis parishioners include Pisanki (intricately painted Easter eggs), the blessing of Easter baskets containing breads and meats, an outdoor procession for the Solemnity of Corpus Christi, and Wigilia, a meatless Christmas Eve supper during which family members gather to await the arrival of the Christ child. Traditionally, hay or straw is placed on the table, and the meal begins with the breaking and sharing of a thin wafer called Oplatek.
"We always end up having some kind of guests over," says Bob, "and when they come in and they experience Wigilia, it takes them right out of the whole American commercialization of the holiday. And when you explain to them that Wigilia is a time of opportunity to forgive and be forgiven and for reconciliation, it gives you just a little bit of a rumble down inside."
Saint Louis remains the only Polish-American Church in the Diocese of Portland, although now, people of many cultures worship there. Parishioners say they try to make everyone feel at home, from the cruise ship visitors who take advantage of the later, Sunday 11:30 a.m. Mass time to neighborhood residents who stroll in alone and tend to sit by themselves.
"Because of the smaller numbers, you can sit down next to someone and say, 'Hey, how are you doing?'' says Bob. "So, you get to know people who, sort of, sit on the periphery."
"It's a small parish and more homey," says Chris Sprague, Grand Knight of Council 14246. "It's a very welcoming place."
"It's a family," says Tamara. "We know that we're part of something longer lasting as a culture and as a faith than just today. We belong to each other. It's really cool."