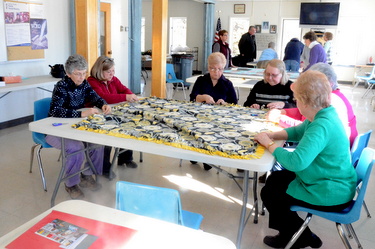 "The finished ones go over there."
Madeline Guerrette carries an armful of fleece blankets bursting with color. There are yellow flowers, blue and green sharks, and brown puppies.
The blankets are the work of the Holy Rosary Blanket Ministry. Each Monday, during about seven months of the year, a group of women get together in the hall of Holy Rosary Church in Caribou to make blankets so that they can share the warmth they bring.
"Every time you make a blanket, you can picture somebody looking at and saying, 'Oh, this feels so nice,'" says Kathleen Nadeau.
"There are a lot of people who can't afford this. They're low income, and they're right down to the last penny from one paycheck to the other," says Joan Bishop, the president of the Ladies of Saint Anne and one of the blanket makers. "It comforts them. It gives them warmth in the winter. We're cold up here. So, I think it's a beautiful ministry."
I just see the warmth and the love and the comfort that's been given. I feel like it's giving a hug," says Ruth Gahagan. "The blanket is a big hug."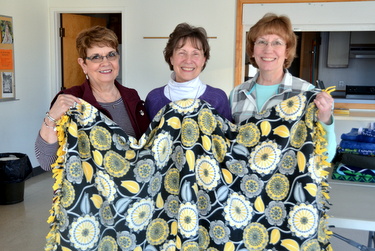 Ruth came up with the idea for the ministry in 2014. She says it evolved out of her participation in ACTS retreats at the Christian Life Center in Frenchville.
"I knew what God had planned for me. It was to serve others using my hands. It was just an inner feeling," she says.
Ruth recalled the warmth she felt years earlier when a family friend made a quilt for her after the death of her younger brother. She wanted others to experience that same healing.
"That gave me so much comfort, the fact that she had made that for me with embroidered butterflies. I just loved that quilt," she says.
Ruth had been making hospice quilts, but she wanted something that wouldn't take as long so that more people could be reached. She says the idea for the fleece blankets came to her as she drove into the church parking lot one sunny morning.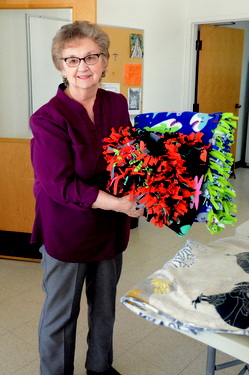 "It was June 2014. The idea came to me that, you know what, we could do blankets, fleece blankets, and do a lot of them," she recalls. "It was such a strong feeling that I knew it was coming from above. It wasn't my idea."
She reached out to a friend, Patricia Caspersen.
"We always do stuff together, and I knew it was going to be good because of how strongly she felt about it, her passion for it," says Pat.
Pat recalls raising concerns about the cost of starting the ministry but says Ruth wasn't deterred.
"She never worried about the financial part of it. I worried about it more than she did. She said, 'God will provide,'" says Pat. "We started out with nothing, and as we could, we bought. And to save money, we used all of our own supplies. Then, we did a fundraiser."
The Caribou Homemakers Extension, part of the Cooperative Extension Service at the University of Maine, provided the fledgling ministry an early boost, donating enough money to buy fleece for 15 blankets and helping to make them.
"We're always looking for service projects to do," says Diane Parent, a member of the extension. "It's a wonderful ministry. It fills a need, not just in our parish but in the community."
"I think it's good, who they're giving it to, and I like doing it," says Nancy Nason, a member of the extension.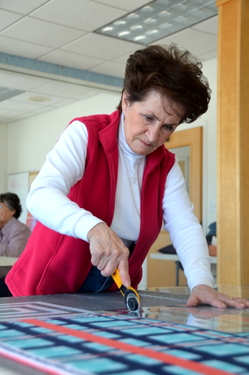 The ministry started with Ruth, Pat, a few friends and the group from the cooperative extension. Now, the list of women participating has grown to 21 with about 15 coming in on any given Monday.
Kathleen Nadeau says she decided to join after she gave a blanket to a man who helps her with household chores and saw his reaction.
"I just saw the smile on his face and his eyes. He called me the next day and he said, 'This is the warmest blanket I ever had,'" she says. "So, when they started this, I said, 'That's where I've got to go.' And that's where I went."
Alvina Pelletier says she was inspired by a gift from her daughter.
"My daughter, she made one for me, and it feels so good. So, when Ruth said, 'Alvina, can you come and help us with the blankets?' I was so happy because I want other people to feel like I did with mine," she says. "I love doing this."
The blanket making begins with the purchase of blizzard or anti-pill fleece, which usually means a trip to Bangor where larger stores offer steeper discounts. The group also received a generous donation of fleece from Mary Tapley, a parishioner who attends Saint Joseph Church in Mars Hill, also part of the Parish of the Precious Blood.
"We put an ad in the bulletin and she called Pat. She had garbage bags of fleece. We couldn't believe it," says Pat.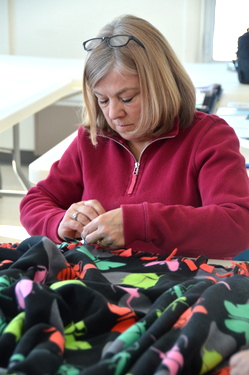 Each blanket consists of a patterned layer and a coordinating bottom layer, most often a solid color. The fleece is laid out on mats and squared off to make sure the sides are even. A three-inch square is cut out of each corner and then, using a rotary cutter, ½" x 3" strips are cut around the entire blanket, creating fringe. The top and bottom pieces of fringe are then tied together using square knots, securing the two pieces of fabric together. The blankets are 60" x 63" or 60" by 54" depending on whether they're intended for an adult or a child.
"There are some people who do most of the cutting because that is what they feel more comfortable doing. Others don't want to cut; they just want to tie. We just share the workload. It's kind of like an assembly line. We do the cutting up here, and then, we pass it down and they finish," says Judy Bougie, one of the co-chairs of the group.
During 2015, the Holy Rosary Blanket Ministry made 100 blankets, which were included in Christmas food boxes given Caribou to area families. An additional 29 blankets were handed out at a Christmas dinner at the Caribou Bread of Life Soup Kitchen.
"We got Santa hats, reindeer antlers. We were singing Christmas carols and dancing around," says Ruth. "The atmosphere was just wonderful. We were so happy. It was fun. Not only did they get food, they got warmth and comfort."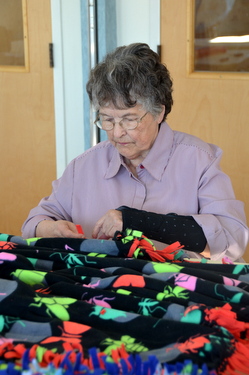 In March, the group presented 20 blankets to the Hope and Justice Project in Presque Isle, which serves those affected by domestic violence. It also intends to give some to the Maine Veterans' Homes in Caribou.
"I think whenever we have a community member or group that wants to be involved with veterans, it's a win-win. We do live in a very cold part of the state, and those blankets are perfect," says Melissa Graham, administrator of the Veterans' Homes. "When our veterans lay down for a rest in the afternoon, they're a perfect weight."
While the blankets are providing comfort to many in the community, the blanket makers say they, too, have experienced the warmth of the ministry, both through the joy of giving and through the camaraderie of the group.
"It makes you feel good that you are doing something for someone else. The company of the girls and making friends is very special," says Birdina Wedberg.
"It's so bright in here, and it feels so welcoming. You walk in and you feel good already, better than being home alone," says Kathleen. "You feel full. You feel like God is really filling you up."
"I'm at the nursing home twice a day. My husband is there. So, this gives me an opportunity to relax. That's important," says Jeannette Martin, a new member.
"We laugh. We talk. We share. It's like old home week. I reconnected with people whom I hadn't seen for a while, and then, there were people who I really didn't know that well, so it was meeting new people. It's just plain fun," says Judy.
From the time the idea came to her two years ago, Ruth says she felt called to this ministry. Still, even she is surprised at how much it has blossomed.
"It's a blessing. I know it comes from above. I can't even tell you. I'm just lost for words. It's such a good group of ladies," she says. "God has such a wonderful plan."