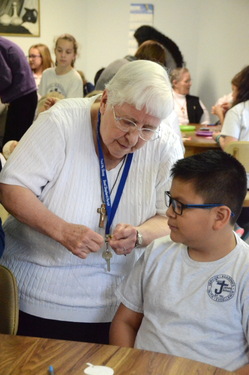 "Welcome everybody!"
Sister Annette Bouchard, SCIM, warmly greets Saint James School students as they arrive at Saint Joseph's Convent in Biddeford.
"Wow. That's great. That's beautiful," she says as group after group of children come in.
The students from grades one through eight are there for one of their monthly afterschool visits.
"Saint James started a group called Students to Seniors three years ago. The intent was to visit seniors in the area each month. The first trip we made was to the convent, and the rest is history," says Nancy Naimey, principal of the Biddeford school. "It's turned out to be very special."
The students spend an hour with the Servants of the Immaculate Heart of Mary, also known as the Good Shepherd Sisters of Quebec. The sisters have a long history with the school, and many once taught there.
"For the sisters, it's great. The kids will bring out the best of you, and a lot of them have been teachers. A lot of them have worked with kids, so it just brings about some happiness that we don't have too often," says Sister Theresa Gauvin, SCIM.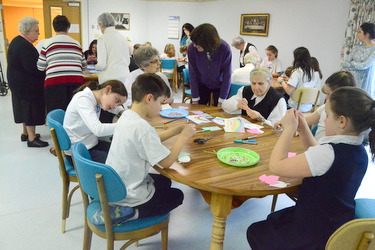 "I taught some 20 years. I was librarian, school librarian," says Sister Bertha Cormier, SCIM. "It just brings back great memories with the kids at Saint James, but at the time, it was Saint Joseph's School."
"I taught school for 60 years, so this brings back beautiful memories," says Sister Arline Gaudette, SCIM. "It's such a pleasure to have them with us."
As the students settle into the dining room, Sister Annette announces their arrival over the public address system and, one by one, the sisters come in, some with the aid of walkers or wheelchairs but all with smiles on their faces.
I enjoy it. I'm always present. When I hear they're coming, I make it my duty to be there," says Sister Theresa Labrecque, SCIM. "I come from a large family. It brings back memories. In Africa, I taught school for 25 years."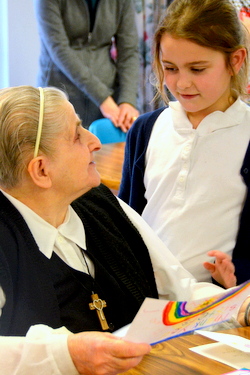 In many cases, the students and sisters now know each other by name, familiarity overcoming any hesitancy or shyness.
"We like coming to see the sisters because we know that they help us with our school, and they're just really nice people to be around, and they give off good energy," says McKenna Picard, an eighth grader.
Their hour together begins with prayer, followed by crafts selected by Peggy Macdonald, a teacher and parent, to appeal to a wide age range. Past projects have included creating a helping hands tree, stained-glass windows made out of different kinds of paper, and beaded snowflakes.
"We decorated our refrigerator with snowflakes, and it stayed up until the following month," says Sister Annette.
On this day, the sisters and the students made beaded crosses and a Lenten prayer tree, which they adorned with leaves containing prayer intentions. "I pray for the sisters," read one.
In some cases, the students, who have more dexterity, help the sisters. In others, the wisdom that comes with age is the guiding hand.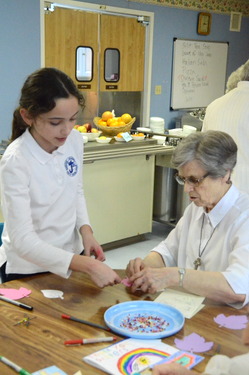 "The sisters come in here, and it rejuvenates them, and it gives them something to talk about, what the project is that they've done with the students. It's beautiful," says Sister Annette
"They're always happy," says Emily Frechette, a third grader. "I like seeing the sisters, and I like doing the crafts."
"I like coming to see the sisters," says Mia Rogers, a fourth grader. "I like doing the crafts and talking to them. I like how we get to learn about what they're like."
"We love to do the crafts and hang out with them and talk with them. It's really fun," says McKenna.
"The kids love to come. The sisters love to have the kids here working with them. They just bond. They really, really bond and form a friendship," says Rita Gervais, one of the coordinators. "It's such a value that we can continue that heritage that is so strong."
Sometimes, the bonds extend beyond the one-hour visits. Such was the case with Carlos Macdonald, a fifth grader, and Sister Monique Gobeil.
"There was one sister in particular that my son Carlos took to. Her name was Sister Monique. We both had a deep affection for the sister, and she loved Carlos. She always complimented me on his good manners and what a good boy he was, and how handsome he was and so on," says Peggy.
"She was just so loving to me," says Carlos.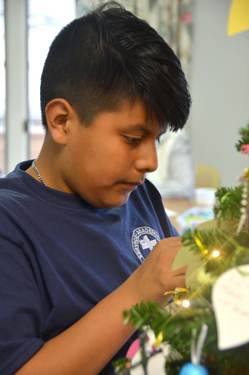 Carlos and his mother recall when Sister Monique pulled them aside one Christmas and presented them each with a seashell, which she had collected from outside the sisters' former Bay View Convent in Saco
"She said, 'Now, I want you to take these shells, and you keep them because they are very special to me, and I want them to be special to you.' So Carlos and I both have a shell on the top of our bureaus. She only had two. She gave one to Carlos. She gave the other one to me," says Peggy. "They mean so much to us. Nuns don't have a lot of possessions, so when they give you one of their possessions, it's just huge."
Sister Monique came to mean so much to Carlos that when she passed away in December 2015, he wrote a speech which he read at her funeral.
"I wanted her sisters to know that she was special to me and made my day whenever I went," says Carlos.
After reading the speech, Carlos placed it in her coffin, bowing his head and making the sign of the cross as he did so.
"The sisters were so endeared to him for that reason," says Peggy.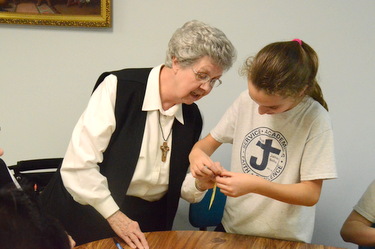 She says there have been many other moving moments, for instance, when the students went caroling through the convent this past Christmas.
"We were caroling door to door and singing to the sisters, and Sister Annette came over and asked me, 'Can you please go to this room? She's very ill.' We went in, and all the children were in a U around the bed, singing to her. It was one of the most beautiful things ever for me because it was like she got that last bit of life in her and she smiled, oh my gosh, this great, big beautiful smile," says Peggy. "It was awesome, just awesome."
At times, the sisters will help the children with their homework. And they always share a snack together. During this visit, the children presented the sisters with cookies, but the sisters always have plenty of treats prepared.
When their hour together is over, the children escort the sisters back to their rooms, sometimes pushing their wheelchairs or holding their hands as they head down the hallway. When students accompanied Sister Aurore Beaulieu to her room, they helped her pick a spot for the beaded cross they had made.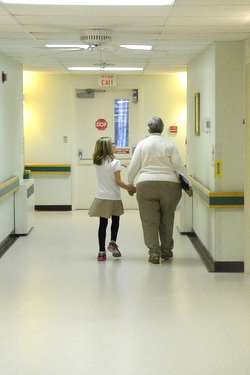 "I have to hang it somewhere because it's so cute. Where can I hang it where I can see it?" she asked them.
It's difficult to tell who benefits more from the program, the students or the sisters.
"I think it's a very enriching experience for the children as well as for the sisters. It keeps them in touch with the youngsters because, here, they are isolated from school, from children," says Sister Theresa Therrien, SCIM. "They look forward to it. I do, too."
"They're just really sweet and funny, and they're very involved in their faith, which is really nice," says Alison Violette, an eighth grader. "I think it's important for girls and boys to learn about them because they have devoted their lives to God, and that is very inspirational."
"I, personally, have a very deep affection for the elderly," says Peggy. "Seeing what those children do for those sisters is wonderful, awesome, priceless."