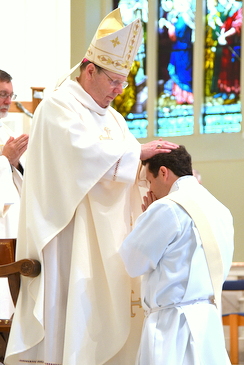 "There is just joy in my heart and excitement."
Father Matthew Gregory says it's difficult to express what it feels like to be ordained a priest of the Diocese of Portland.
"Words can't explain how filled I am with joy and happiness. It's absolutely wonderful!"
Gregory, a South Portland native and Cheverus High School alumnus, was ordained to the priesthood by Bishop Robert Deeley on May 28 at the Cathedral of the Immaculate Conception in Portland.
The bishop called it a day of rejoicing, telling Gregory that God created him for that moment.
"You have taken time to discern, but what you have discovered is that God has intended that you are destined for the service of the priesthood," the bishop said. "God has guided your journey. You will now serve Jesus Christ, the Teacher, Priest, and Shepherd, in His ministry, which is to make His own Body, the Church, grow into a community, the people of God."
During the ordination Mass, Gregory affirmed his willingness to become a priest and then knelt before bishop and, as he had done during his diaconate ordination, promised respect and obedience to him and his successors.
"When I placed my hands into the bishop's and again professed obedience to him, it took me back to Jesus in the garden where He gave His life and His will to God, the Father. That, I think, was the most beautiful moment," says Father Gregory.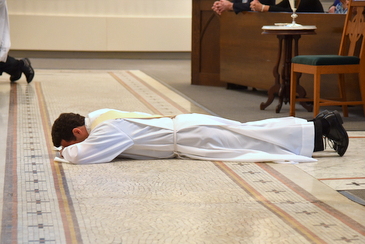 In a sign of humility, Gregory then lay prostrate while the Litany of Saints was sung, the entire congregation joining together in praying for the Holy Spirit to send His gifts upon Gregory.
In the most solemn parts of the rite, Bishop Deeley laid hands on Gregory in silence, as did all the priests present, and then prayed the prayer of ordination, asking the Lord "to grant us this helper that we need to exercise the priesthood that comes from the Apostles."
It is a transformative moment.
"There was a point in there when you felt something. I mean, honestly, I felt just the Spirit come upon me. It was beautiful," says Father Gregory.
Newly ordained, Father Gregory was vested with the stole and chasuble, symbols of the priesthood, by Father Bob Vaillancourt. Father Gregory chose Father Vaillancourt,
former director of the Office of Vocations, because he says it was Father Vaillancourt who showed him what it means to be a priest in the image and likeness of Christ.
"Something he always said, 'You know, Matt, we don't need good priests. We don't need great priests. We need holy priests.' And that's what I strive to be. That's the bar I set for myself. That is what Jesus is calling us to, to be holy priests," says Father Gregory. "I think to be a holy priest is to be a man of prayer, a man of sacrifice, to be humble, to be a man of purity of mind, of heart, of spirit."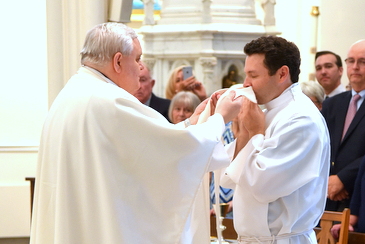 Reflecting on his life, Father Gregory admits that there were times he did not live up to those high standards. But, he says, it was through God's grace and great mercy that he was able to persevere. He also credits the intercession of the Blessed Mother, which is why, following his ordination, he immediately paused to thank her.
"When the procession ended, the first thing I did was kneel in front of the statue of Our Lady and give her thanks because without her I wouldn't be here. Finally, I'm her priest son, and it's such a joy," he said. "I can't thank our Blessed Mother enough."
Father Gregory has had a devotion to the Blessed Mother since the eighth grade when his parents were introduced to the apparitions of Medjugorje. Although not authenticated by the Church, some believe the Blessed Mother appears in the town located in Bosnia and Herzegovina.
His parents began praying the rosary and taught him to do the same. When he entered Cheverus High School in Portland, they prayed it together during the drive to and from school. Gregory also began reading about Medjugorje.
Despite his devotion, a religious vocation hadn't entered Gregory's mind. Instead, after high school, he pursued his two other passions, snowboarding and flying planes. First, he headed to Lake Tahoe with the intent of either starting a snowboard company or running a ski resort. After deciding a life in snow wasn't for him, he headed to Florida where he attended flight school and earned his commercial pilot license and flight instructor rating. He got a job training people to be commercial pilots.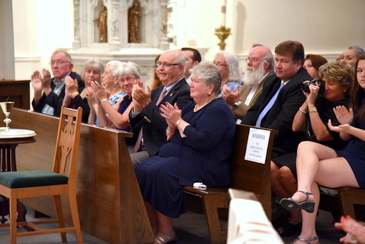 Eventually, his travels brought him back to Maine, where, feeling called to give back for the blessings in his life, he took a job working with young adults who have cognitive disabilities.
"I still think about them to this day. They had a huge impact on me," he says. "I loved it."
Ironically, it was during this time of service to God's people that Gregory's once strong faith life began to slip.
"I started to fall away from the Church, stopped going to daily Mass, and following that, your prayer life starts to dwindle."
Soon, Sunday Mass was no longer a must either.
"I remember getting ready to go to Mass. I would be in the car, and it would be a beautiful, sunny day, and boom, I would drive right by Holy Cross Church, back to my apartment, and put on shorts and flip flops," he says. "After that I became the 'C.E.O.,' the Christmas and Easter only kind of Catholic."
During the next couple years, he describes his life as very secular.
"It was all about me, myself, and I," he says.
But far from feeling fulfilled, he says his life was going in a downward spiral.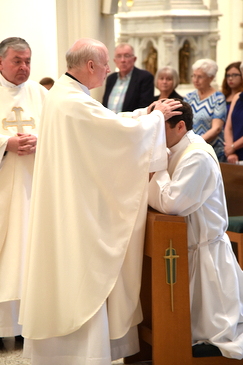 "There was something that I was seeking outside this world, and that is when it hit me, 'You're looking in the wrong place here. What you want is God.'"
He turned to the Blessed Mother for help, retrieving rosary beads that had been collecting dust on a shelf.
"I picked up the rosary beads, dropped to my knees, and prayed to Our Lady, just making up the mysteries, and that embrace, that motherly embrace of Our Lady, just permeated my soul. I knew it was her because it was like nothing I ever felt in my life, nothing. It could only have come from heaven."
He remembers it clearly.
"November 2, 2007, in the evening, and I can put it between 3 and 5:30 p.m. I can see my room," he says. "I just remember asking her, 'Mary, my mother, help me to have a relationship with God again.' That was my prayer. Well, she certainly did that."
Father Gregory says he has always believed in the Real Presence of the Eucharist, and as a result, felt he could not receive holy Communion before going to confession.
"It was just unbelievable to confess, to verbalize what I had done, seeking the mercy of God, and then to hear the priest say the words of absolution. And when I walked out the door, I was a new man. I felt completely changed, transformed, free. It was a beautiful thing."
He says that is why he still regularly goes to confession and why he wants to share that gift with others now that he is a priest.
"Something I strongly desire is to share the love and mercy of God with others. I have had the weight of sin removed from my shoulders, that weight that you carry on your shoulders, so I want to be able to share that same thing and help people to be freed of the burdens that they carry."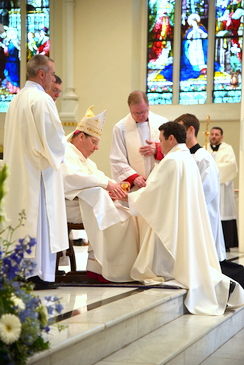 He also says that is why it is providential that his ordination occurred during this Jubilee Year of Mercy.
"When I heard Pope Francis announce that this was going to be the Year of Mercy, I thought, 'This is the year I'm going to be ordained.' I just welled up with tears. It was like, 'Wow, this is unbelievable,'" he says.
Confession led Gregory back to Sunday Mass and then to being a daily communicant.
"I was just being fed and falling madly in love with our Lord and thinking, 'I need more.' That is when I discovered Eucharistic adoration," he says. "That was powerful, to spend an hour with our Lord in just total silence, talking with our Lord, listening. He can work such wonders in you."
During this time, Gregory had begun working for an experiential marketing firm, a job which allowed him the flexibility to attend morning Mass and spend lunch breaks praying before the tabernacle at Saint Joseph Church in Portland.
"It allowed me that freedom to really discern God's will," he says. "Within a month, I really started to think, 'Is God calling me to be a priest?'"
Suddenly, he saw and heard signs all around him. He recalls his attention being drawn to the priest celebrating Mass at Holy Cross Church in South Portland. For adoration, he chose a different pew from where he normally sat, only to discover a vocations magazine in it. Following a daily Mass at Saint Pius X Church, a religious sister noted his prayerful nature and asked him if he had considered the priesthood. A Franciscan priest at Saint Joseph Church posed the same question. Later, two women at a Tenebrae service asked him if he was a priest. Finally, the question was posed to him at the Chrism Mass by Bishop Richard Malone.
"He said, 'I'm going to ask somebody in the pews here tonight to consider a call to the priesthood or consider discerning a vocation.' I knew, without a doubt, I would have bet my life on it, that he was going to pick me out of every person in that church, and sure enough, he did."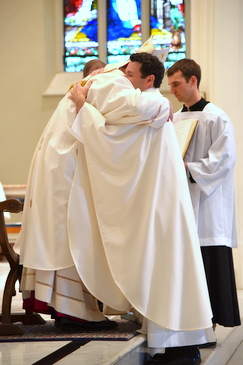 The call was so strong, Gregory felt overwhelmed.
"I remember saying, 'O.K., God. I'm listening, and I hear you, but please just back off. It seems like I'm almost being overpowered here.'"
The experiences stopped. About a month later, he got a call from Father Vaillancourt, who was transitioning in as vocations director. Gregory's name was on a contact list because he had previously picked up some information about the priesthood.
"I met with him, and it was such a blessing," he says.
Gregory entered Saint Mary's Seminary & University in Baltimore in 2010 but soon faced a new trial.
"The feeling of the presence of God in my life just kind of dried up," he says. "'God, where are you? God, where are you?' I remember praying that over and over."
Gregory began suffering panic attacks.
"I was missing meals. I was missing class. Sometimes, I missed prayer or Mass, just because the anxiety was so strong."
In need of treatment, he left the seminary, and after returning home, the attacks soon disappeared.
Although it was a difficult time, he now sees it as a blessing, saying it brought him closer to God.
"I would take it in a heartbeat because it really helped me to become the person I am today," he says. "It's a gift and really a treasure that God placed in my life, because it's something that I can use to help other people."
He intended to return to Saint Mary's Seminary, but a visit to Blessed John XXIII Seminary in Weston, Mass., (now Pope Saint John XXIII) changed his mind.
"Hanging out with the guys there, seeing the seminary, it just felt like home," he says.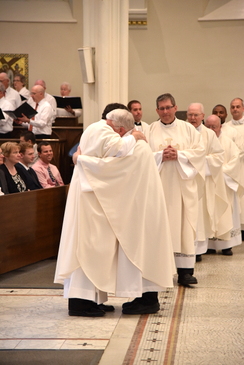 He transferred there, but as he continued to discern, he began to wonder whether he had given marriage enough thought.
"It's not that I didn't want to become a priest, I just felt that, maybe, I needed to explore other things first."
He says what he didn't realize at the time was that he had fallen away from praying the rosary and from his devotion to Our Lady. He believes it left a void, which he was trying to fill.
Gregory left the seminary to take time to discern. He began reading a book on the discernment of the spiritual life and says he quickly realized he had made a mistake. He was accepted back as a seminarian, resuming studies with a new class. Even that, he says, turned out to be a blessing.
"We are just so close. There is a real brotherhood among us," he says. "It couldn't have been better."
He calls that fraternity one of the great gifts of the priesthood.
"It is something that is very special and unique that is shared among the select few," he says. "Some will think that it is just me and what God is calling me to do, but it is so much deeper than that."
Father Gregory says he began each day at the seminary before the Lord in Eucharistic adoration.
"It just really became the foundation stone of my entire day," he says. "That quiet time with Him, by His grace, it really can transform your entire day."
Each evening, he paused to reflect.
"Really look over what would have been the plusses and minuses of the day," he says.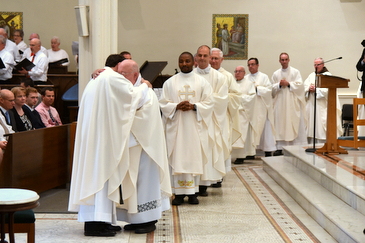 Father Gregory says prayer, reflection, academics, friendships, and pastoral experiences all gently guided him into the priesthood. During his seminary years, he spent time serving at parishes from Caribou to Kittery. He served as a hospital chaplain in Concord, Mass, and was assigned to the Catholic Charities' Labouré Center in South Boston, where he came face-to-face with the heartache that results from terrorism.
Gregory worked with a doctor from Syria, who suffered serious head trauma when ISIS bombed a hospital. The once renowned heart surgeon, who had dedicated his life to saving others, now struggles to form sentences.
"He knows what he wants to say, but it does not come out," says Father Gregory.
The man came to the United States in search of medical treatment, returned to Syria without getting it, then returned again with an explanatory note placed around his neck by his wife. Father Gregory says that, instead of receiving help, the man was imprisoned for three months. His family, who was forced to flee Syria after their house was bombed, had no idea what happened to him. It was only through Catholic Charities that he was freed and received help.
Gregory spent Friday afternoons conversing with him, a slow process; taking him to the library to pick up books and DVDs aimed at improving his language skills; and trying to help him adapt to society here.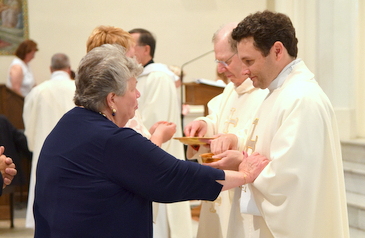 "Trying to get him to buy things was impossible. He would say, 'I don't have money. I don't have money to do it. My family needs the money.' We were giving him cards to buy food, but he would not buy food."
Father Gregory says he was present when, through Skype, the man saw his family for the first time since leaving.
"They're on there and seeing their dad for the first time. Wow, even now talking about, it's a tear-fest."
He says the experience made him grateful for all the gifts he has been given.
"We take so much for granted. He's alone. He can't communicate. He's separated from his family in a foreign land, completely dependent on other people in certain ways – to go from being a brilliant heart surgeon to not being able to write a word on a piece of paper."
Father Gregory says, although the threat of terrorism necessitates caution, it shouldn't overwhelm our call to treat others with compassion.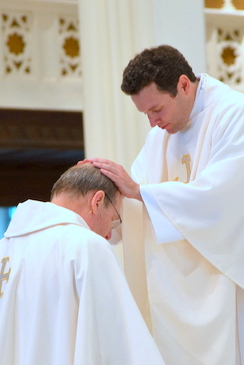 "These are desperate people who need help, who need to be loved, who need safety," he says. "They need a chance."
Following his diaconate ordination last year, Gregory served at the Parish of the Ascension of the Lord in Kittery. It gave him the opportunity to preach, something he once feared but now loves.
"You're breaking open the Word of God, and you're helping people on the path to salvation. We're talking about eternity here. We're talking about Jesus. We're talking about the sacred things that are so precious and important, and that is what I'm giving my life to."
His first homily as a priest was delivered the day after his ordination, during a Mass of Thanksgiving celebrated at the Church of the Holy in South Portland. He says it is an honor to be able to celebrate the sacrifice of the Mass.
"I don't think anything can top that," he says. "To say the words of consecration and hold, in my hands, the Body, Blood, Soul and Divinity of Christ, present in that Eucharist, was just unbelievable. Words can't describe how honored I am, how blessed I am."
While there have some starts and stops on Father Gregory's journey, he says, by putting his trust in God, he has now found true happiness.
"I was happy in my former life, but I am filled with joy now," he says. "My yes to God happens to be the priesthood, but I think, wherever He's calling you, if you give Him the time to listen, and then have the courage to say yes and follow the path He puts down before you, you won't have any regrets. I've gone through the rollercoaster ride of life the past few years, but I wouldn't change anything because it's God's will for me, and I've never been happier."
His first assignment is at Corpus Christi Parish in Waterville.