Six-year-old Jacob is helping his grandmother Katherine Jones begin planting her garden.
"I want to use the hose," he says.
Not only is Jacob in charge of watering, he also picked out the seeds.
"We have green beans, carrots - I don't know if we'll plant all of these - peas, beets. He didn't even know what they were, but he asked me if I liked beets. I said yes, so he said, 'O.k., we'll get that,'" Kathy says. "Oh, cucumbers, too. Those are one of his favorites."
Kathy is among the parishioners who signed up for a section of the new community garden located outside the rectory of Saint Maximilian Kolbe Parish in Scarborough. It is comprised of eight, 10' x 12' raised beds, surrounded by a perimeter of 50 kiddie plots, which are 2' x 4'.
The garden is a social justice initiative of the Cluster 22 parishes, which also include Saint Bartholomew in Cape Elizabeth and Saint John and Holy Cross in South Portland. On a first come, first served basis, and for a minimal fee, parishioners signed up for beds with the intention of gardening for themselves and also giving a portion to help families served by the South Portland Food Cupboard. In addition, parishioners will take turns managing one large bed, which was set aside for the cupboard.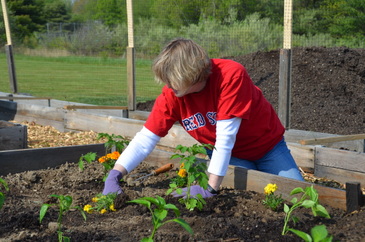 "There are so many food insecure families in the Portland area, and fresh produce is sometimes difficult for food cupboards and food pantries to stock because of the fact that it is perishable, so we wanted to be able to provide a way for them to have some sort of source of fresh produce for families," says Kathy.
"Fresh produce is an important part of the food cupboard," says Jim Welch, a parishioner who works at the cupboard. "Getting fresh vegetables into the hands of these people can only make them feel better. And it makes us feel better when we know it's getting out there."
Jim says the cupboard serves an average of 75 families a week. They are primarily from Cape Elizabeth, Portland, Scarborough, and South Portland but also come from towns as far away as Naples.
"There are pockets of poverty everywhere in Maine. There really are," says Monsignor Michael Henchal, pastor. "If you go looking around, you find them, an elderly person or a couple with a disability who are not making much money."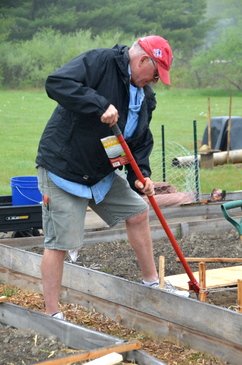 The Garden of Eaten, as it has been named, got off the ground a year ago with the help of a $4,000 grant from the Catholic Campaign for Human Development. Much of the money went towards putting in water spigots that are connected to the rectory through underground pipes.
The project has been a community effort from the very start. Several work days have been held, during which volunteers came together to create the garden.
"Everybody has contributed so much," says Paul Chamberlain, who chairs the garden committee.
Members of the Knights of Columbus Calvary Council 8144 are among those who donated their time. They laid out the perimeter and built the individual raised beds.
"We do anything we can to help the community, our church, our council, our families. This happened to be what I thought was going to be an excellent project, not just for the church and the cluster but for the whole community, so we signed on," says Dick Goulet, grand knight of the council.
It was decided to use raised beds because the ground was so hard. They used a technique called lasagna gardening, which creates a base using layers of materials such as granite, dry leaves, grass, cow manure, compost, newspapers, and straw. Volunteers prepared the layers last fall so they would be ready this spring.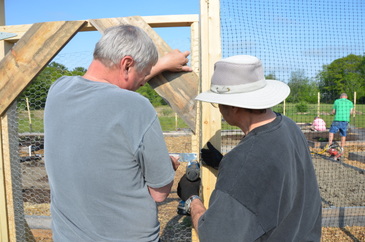 "We put it to bed, and this past March, we came out here, and we took off the straw that was on there, and it sunk probably half way down," says Paul. "So, we said, 'What do we do now?'"
Phil Roberts of Broadway Gardens came to the rescue.
"He said, 'You need some garden soil. I'll get it for you.' And he had 25 yards of garden soil dropped off in the parking lot by an 18-wheeler. It was huge. All donated," says Paul.
The Garden of Eaten also received a donation of wood chips from T.W. Enterprises, Inc. in Westbrook, a discount on compost from Garbage to Garden in Portland, and a discount on lumber from Hammond Lumber. In addition, John McDonough, a carpenter, donated his time to build a shed, and Joe Capobianco, a master gardener, leant his expertise.
"It's a little bit of a challenge. Raised crops will dry out faster. They should use mulch. They should also keep it simple, so you feel good about yourself, and you're successful," says Capobianco.
Monsignor Henchal blessed the garden following Mass on Ascension Thursday.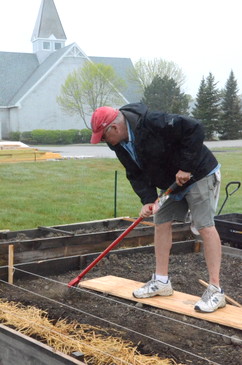 John LaPointe was the first to plant, choosing onions, scallions, beets, and flowers, all of which he plans to share with the food cupboard.
"I wanted to plant flowers, cut flowers, because I think people might want to take home a bouquet of flowers," he says.
He also wants to try growing potatoes.
"I saw on the Internet how you can grow 100 pounds of potatoes in four square feet, so I might get 200 pounds of potatoes in eight square feet. We'll see."
In the next bed over, broccoli and cauliflower have taken root thanks to Monsignor Henchal. Yes, he is one of the gardeners.
"When you're in a big cluster like this, you do a lot of administration, so you don't do a lot of hands on stuff, and this is really hands on. And during the summer, it's easier to do it. There aren't as many things going on," he says.
Monsignor Henchal says his parents had a big garden when he was growing up, but he admits it's been a while since he's picked up a spade.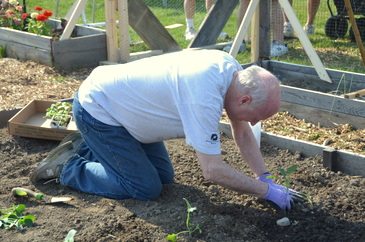 "Other than playing cards?" he asks, laughing. "It's been a long time since I've done anything like that, but I just think it's going to be a lot of fun."
Mike and Fran Audet, fellow gardeners, say they have already had a wonderful time.
"It's been more fun than anything, and we've met some really, really nice people," says Fran.
"It will give people who don't have a place for a garden, who live in an apartment maybe, or who haven't gardened before, a place to garden. And you can get tips from other people," says Mike.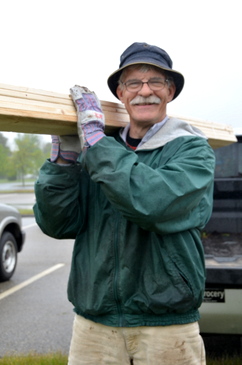 Henry and Elizabeth Prosack plan to have their 16-year-old daughter take care of their bed as a service project.
"We go down to Whole Foods, and we see the people standing on the corner. We've seen them many times, and we've seen it one time too many. We just wanted to do something to help the homeless," says Elizabeth.
"We'll take a few tomatoes, but the end goal is to give as much as we can," says Henry. "There is something wholesome about gardening, growing food from the earth and seeing it from seedlings to harvest time."
The hope is that the Garden of Eaten will continue to grow.
"Look at how big this area is. We can keep extending it," says Fran. "More people will want to do it, and we'll give more to the food cupboard."
"Hopefully, at some point, we'll even have some of the families who are being served with these come in and be owners," says Kathy.
Although the first tomato has yet to ripen and the first pepper yet to be picked, those involved say the garden has already borne fruit.
"It's a real community event," says Paul. "It's a wonderful thing."
"I just think this is neat because it's going to bring parishioners together, to work together, but also the fact that it is supporting the food cupboard, which I think is wonderful," says Monsignor Henchal. "I'm really proud of this."