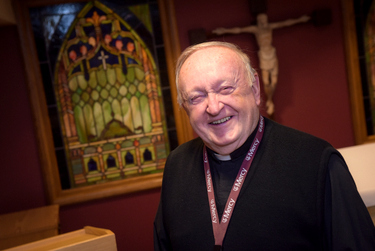 From field hospitals in Vietnam to the floors of Mercy Hospital in Portland, Father Robert Paskey, S.J., has spent a lifetime caring for the sick and comforting the afflicted. His 63 years as a Jesuit have been spent the way a fellow Jesuit, Pope Francis, has called us all to live.
"Serve the poor. Start with the poor. And then everything else will work out," he says. "He and I are simpatico."
Father Paskey has seen the scourge of war, the plight of refugees, and the perseverance of the Eskimo people, and despite the dangers and challenges he has faced, he wouldn't have had it any other way.
"It's the Jesuit life," he says.
Ironically, this priest with an adventurous spirit almost chose monastic life. Raised in a Polish Catholic household in Uxbridge, Mass., he says he felt a call to the priesthood at a young age. He got to know the Trappist monks who would stop in at his father's diner while moving to their new monastery in Spencer, Mass., and his interest led them to invite him to their monastery. It was the monks, perhaps seeing his true calling, who recommended he attend Holy Cross, a Jesuit college in Worcester, Mass. Father Paskey says, once there, the connection was instantaneous.
"Meeting Jesuits in my first year of college left me with a certainty about my vocation," he says. "Everything was included in the Jesuit vocation, which meant I could expand in all kinds of directions, rather than the confines of just one parish."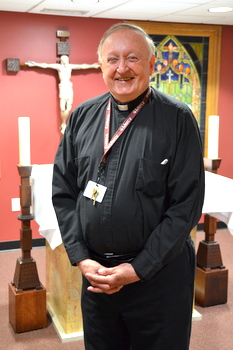 Although he majored in chemistry at Holy Cross and then pursued a master's degree in it at Boston College, the changes resulting from the Second Vatican Council took him in another direction.
"My superiors took me out of chemistry and put me into social work. I don't know why, but it was a brilliant insight," he says.
After ordination in 1966, Father Paskey earned a master's degree in social work from Case Western Reserve University in Cleveland, expecting to become a faculty member at Boston College. He never got that chance.
"In 1970, I was sent from Cleveland to Catholic Relief Services in Vietnam. I got off the plane in 100-degree heat and found myself in the middle of the Vietnam War," he says.
Father Paskey says Catholic Relief Services (CRS) and Catholic Charities Vietnam were working together at the time to help people displaced by the war, among them the Montagnards, a tribal people living in the central highlands of Vietnam. The Montagnards, originally from Micronesia, spoke a Malayo-Polynesian language, not Vietnamese.
"The North Vietnamese used the mountains to travel south to attack Saigon and the southern part of the country. The Americans and South Vietnamese used the mountains to attack North Vietnam. The people stuck in the middle were the Montagnards," says Father Paskey.
The mission of the CRS team was to help bring the Montagnards down the mountain and into the city to get them out of harm's way.
"We would get military trucks to go up, bring them down. Catholic Charities would find them blankets, mattresses, whatever they needed," he says. "Since they didn't speak Vietnamese, Catholic Charities would take care of them like refugees, even though it was just down the mountainside, get them settled, get them food, and try to integrate them into Vietnamese society."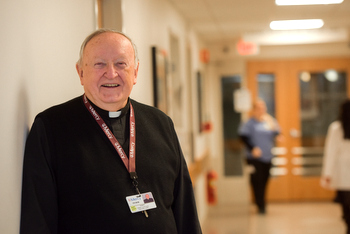 It was a tough transition, he says, because the Montagnards were a people who still hunted with bows and arrows.
"Vietnamese Catholic Charities did a great job, but one can barely imagine the trauma to the Montagnards," he says.
During the war, there were not enough chaplains to serve the military, so on weekends, he began to travel to American military bases to celebrate Mass.
"The Army would send a jeep with a driver and a bodyguard to take me either to an airport or by land to a military base where I would say Mass," he says.
Sometimes, he would remain long enough to talk with and counsel the troops. At other times, his stays were brief.
"Sometimes, immediately after Mass, the sergeants would put me on a plane to go someplace else because there was a real shortage of military chaplains," he says. "The sergeants serving as chaplains would provide accommodations, transportation, and whatever else I needed. But, you never knew where you were going. It was all secret."
And, at times, dangerous.
"It was not unusual for a helicopter to suddenly swerve, and you would be looking straight down," he recalls. "Bullets are coming by and I'm like, 'Whoa.'"
He says the gravity of the situation never really hit him until he was back in the United States.
"When you're in the midst of a war, you do your job and think about it later," he says.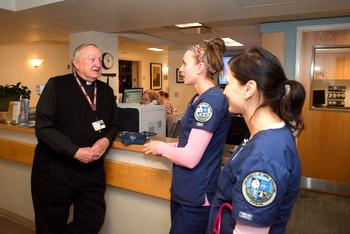 Father Paskey's responsibilities included visiting military field hospitals which were located near but not in the fighting zone. He would often visit the hospitals before traveling to bases for Masses on Saturdays and Sundays.
"When the helicopters brought in a patient, there were three doors: one – for the dead and dying; two – when there was a chance to save the soldier's life; three – mediate and bandage him and, when ready, send him back to his military post. So, my job was to go to door one, to the dying and the dead. Often, these were 19-year-old kids."
He says he only went into the middle door if it looked like a patient might not survive. And he never made it to the third door where soldiers were recovering.
"No time, you go where you're needed," he says.
After ten months in Vietnam, Father Paskey returned to the United States, only to come face-to-face with the anti-war sentiments of the era.
"A lot of people, including Jesuits, could not understand why I served in Vietnam during the war," he says. "It was difficult, so I took time off to deal with recovery from Vietnam and this new anti-war atmosphere. To recover, I made a retreat, got some spiritual direction, got some therapy."
Jesuit superiors, recognizing his need to get back to work, sent him to Fairfield University to begin a campus ministry program. He continued with some off-campus retreat work, but it wouldn't be long before he headed overseas again.
"This time, it was refugee camps in Thailand, along the Cambodian border," he says. "Refugees were pouring out of Cambodia because the North Vietnamese had taken over the country. The North Vietnamese killed anybody thought to be educated or a leader, killing anyone who wore eyeglasses, which in their minds was a sign of an education and money. Catholics, who were usually educated, rushed to the Thai border to escape."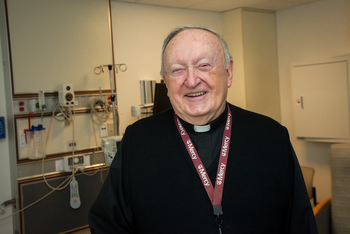 He says the United Nations and other international relief agencies, including Catholic Relief Services, set up camps along the border to help those who were fleeing. The U.N. camp coordinator asked CRS to take responsibility for women and children. Father Paskey directed the CRS team, making sure relief efforts were organized and that the people were being helped.
"Refugees were arriving during the rainy season and before the international agencies could get there. When I arrived, there were 1,000 refugees sitting in the rain in a big field. After food and shelter, one of the priorities was to immunize the refugees."
He says while the immunizations helped, many were already very sick.
"We got them out of the rain under a large tent. Doctors and medical students soon began arriving from Bangkok with anti-malaria and other medicines. A lot of the infants were already dying because their mothers had stopped lactating under the trauma."
Father Paskey says the work was non-stop.
"Because you're in a crisis mode, you have to work thoughtfully but quickly. All the international relief agencies had to quickly get people sheltered, medicated, fed, safe, and warm."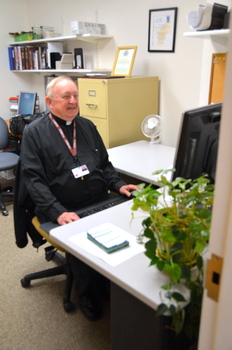 Although there wasn't much time for daily prayer and reflection, which are part of Jesuit spirituality, he says he knew the Lord was always with him.
"'Lord, I don't have time to pray, just help me,'" he remembers praying. "'Lord, you understand, I'll catch you later.'"
He shares an important lesson he learned from his experiences with the refugees. He recalls that there was a woman screaming and tearing at her clothes. They couldn't calm her down, so he asked the Vietnamese what to do, and it was recommended that he call a shaman.
"The shaman came, sat behind her bed for three days, talked, chanted, and at the end of the three days, she was back to normal," he says. "The lady seemed healed, which taught me that there is grace in all kinds of people and situations. And it can't be found all in the same box."
Father Paskey says he was part of the initial team that went to the refugee camps, which meant he and his fellow team members were exposed to the diseases carried by the refugees. It was always intended to be an assignment just long enough to provide CRS time to better organize efforts and recruit more doctors and nurses.
"So we stayed there for three months. At that time, the initial team was sick, so they pulled us out," he says.
Again, he returned to the United States to recover, but he would go back to Southeast Asia once more, this time to try to negotiate an agreement with the Cambodian government that would allow CRS to help the people rebuild. Unfortunately, the negotiations weren't fruitful.
"When the CRS supplies reached the Cambodian airport, the Cambodian government took complete control, and we had no way of knowing where those supplies went. They could have been sent back to North Vietnam, so CRS canceled the contract and left Cambodia," he says.
Father Paskey says serving the poor had increasingly become the focus of the Society of Jesus (the Jesuits) under the leadership of Father Pedro Arrupe, S.J., who served as superior general from 1965 to 1983. It led to the formation of Jesuit Refugee Service (JRS) in 1980. While JRS has now grown into an international organization serving in 50 countries, it started with a list of names given to Father Arrupe. Father Paskey's was among them. His first JRS assignment was to assist Somali refugees being forced from Ethiopia. Although employed by CRS, Father Paskey also reported to Father Arrupe as JRS's first field director.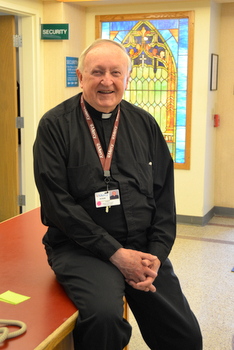 "These Somali refugees came across the border healthy, but there was no food supply or anything else once they crossed into Somalia. Like Thailand, some of the women and children would be sick. Nothing was sterilized, so CRS-JRS set up a camp where any of the women and children could come and get medicine and food."
After some healing time back in the United States, Father Paskey next became director of Jesuit International Volunteers (JIV), traveling to Nepal, Egypt Micronesia, and Belize to supervise JIV's work in those countries.
He then returned to retreat work. He says the directed retreat movement was spreading, and there was a call for Jesuits experienced in retreat work to bring their Ignatian spirituality to sisters and diocesan priests. His ministry took him throughout the United States and Canada and into several African countries, including Sierra Leone, Liberia, Kenya, and Nigeria.
"Suitcase in hand," he explains. "I would have a schedule of retreats. On Monday, I would be in one place. The following Monday, I would be somewhere else."
Many of those with whom he worked were in crisis areas.
"In Nigeria, after the Biafra War (Nigerian Civil War), nuns would come to retreats traumatized by the war, violence, and death. Bullet holes pockmarked the convent walls. I was asked to go there, because of my experience in Vietnam and Thailand, to help them recover," he says. "My retreat ministry involved a lot of listening and counseling."
In the early 1990s, his ministry took him to Maine where he served as temporary administrator of Saint Ann at Pleasant Point and Saint Christopher on Peaks Island. He would later become pastor of Saint Peter Parish in Bingham.
Father Paskey calls Alaska his next great adventure. He filled in for priests while they were on vacation and spent two years as pastor of two Eskimo villages, Kotlik and Mountain Village on the Yukon River. Each had about 200 people.
Father Paskey says the living conditions were rustic to say the least. The rectory had no toilet or running water. Rather, you collected rainwater in the summer in 50 gallon drums and stored them in the kitchen for use in the winter. Two propane stoves provided heat.
"Without heat, you could not stay in the rectory. In both villages, the Eskimos communicated with each other through shortwave radio. When I arrived, the village elders assigned an elderly couple to teach this newbie from the lower 48 how to survive."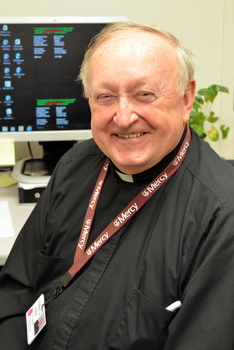 He says if the weather was bad, the plane that brought mail and supplies might be delayed for a week, so you had to be disciplined to make sure you had enough to live on.
He says of the situation, "I loved it!"
In 2003, Father Paskey was given a sabbatical to celebrate his 50th anniversary as a Jesuit. Although he yearned to return to Alaska, he was approaching age 70, which meant he wouldn't be allowed to serve in such an isolated environment. He transitioned into hospital ministry, first serving at Concord Regional Hospital in New Hampshire and then, since 2010, at Mercy Hospital and Maine Medical Center in Portland.
Although you get a sense he would still like to be out in the field somewhere, he says it is work he enjoys.
"It's not something I would have done in my younger years because I was too restless, but now that I'm older, it's a perfect ministry for me. It's slower paced to adjust to my age and health, but it's still very pastoral, meeting with patients."
He says you never know what situation you will encounter in hospital ministry, and that fits his personality.
"In every room is a surprise. You never know what you're getting into, and I do well with surprises," he says.
It's also a good fit, he says, because, in some way, he has been caring for the sick and comforting the afflicted for most of his life.
"From Vietnam on, I was always at some time or another available for hospital ministry."
Looking back at his many years of service, he says he knows becoming a Jesuit was the right choice for him.
"Absolutely, without a smidgen of a doubt."
And then, laughing, he adds, "I probably wouldn't have made it as a Trappist monk."