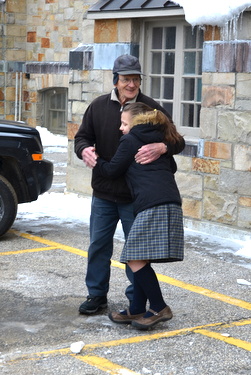 On most Fridays, you will find 89-year-old Laureat "Larry" Thibeault waiting outside Saint John the Baptist Church in Brunswick, greeting students as they return to class after morning Mass. He has a smile or kind word for all of them, but he envelops two of them with hugs, his great granddaughters Jillian and Abigail.
The girls are the fourth generation of the Thibeault family to attend Saint John's Catholic School. Jillian is in fifth grade and Abigail in third grade. They are continuing a tradition that started with Larry, known affectionately by his granddaughters, great granddaughters, and most everyone else at the school as "pépère."
The family's ties to Saint John's run deep. Not only have four generations attended Saint John's, but Larry's daughter, Jaline Cogswell, teaches pre-kindergarten, one of her daughters, Amy Pelletier, is the director of advancement, and her other daughter, Sarah Williams, is a second-grade teacher.
"As far as teaching anywhere else, I don't think I ever would," says Jaline. "This is home to me. I graduated from here and went to high school. I went and did what I did, marriage, and kids, and college, but I came back here."
The family's love for the school began back in the 1930s, when Larry, the son of French-Canadian immigrants, attended.
"I was a little kid when they brought me over here, and I've been coming ever since," he says. "I still have very good memories."

He remembers growing up on a farm and getting up early to do chores before heading to school. He says the bus he had to catch would get him to class late.
"They didn't like that very much," he says.
At the time, Saint John's was operated by the Ursuline Sisters.
"They were all nuns, and some of them were awful strict," he recalls. "But, they didn't bother me."
He says a notable difference in those days was that the boys and girls were kept apart prior to class.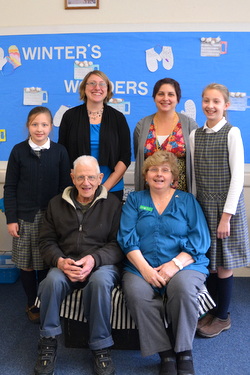 "When we would come into the school, we were all lined up, the girls on one side and the boys on the other side. They were never all mixed up together. In church, it was the same way. It was different in them days. Today, they run out. In those days, there was nothing like that," he says.
The girls and boys did attend classes together, including Larry and the girl he would later marry.
"We had a nice choir for the kids. We always left our room to go into their room. She wasn't much of a singer or she didn't want to, and we would be talking to each other," Larry says.
Larry graduated in 1942 and recalls that not long after, there was a scare when the school caught fire.
"The third floor burned," he says. "There was a lot of water damage."
But Saint John's survived, and when Larry and his wife, Simienne, had children, they became the second generation to attend. Jaline started there in the early 1960s.
"My earliest memory was sitting on this side of the window, because it had big windows, and watching a nun run across the field. I had never seen a nun run. It was the day Kennedy was shot, and they were running to tell us," she says.
Jaline describes Saint John's as a great place. She recalls square dancing on the front lawn, and she still treasures the long-lasting friendships she made.
"My best friend and I met in kindergarten, and we're still friends. One of the amazing things I've seen over the years, from when I was here and since I've been teaching, is that kids get really close," she says.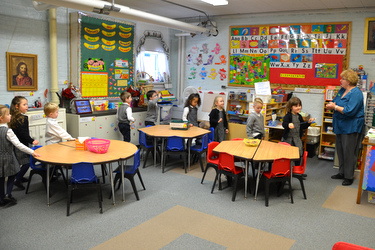 She attributes that to the small class size and the family feeling that has always existed at the school.
"I had one parent come in for open house for pre-K, and that's when she decided to send her son, because she came in, and she just walked around the building listening to people and said, 'This is the place for him.'"
Jaline has been teaching at Saint John's for 28 years, 17 in the extended kindergarten program and the last 11 in pre-kindergarten. She started working there when her children were students.
"My kids were here and Sister Angela approached me to possibly do a job in the building to help pay tuition," she says. "I tried it and found out that I found my niche."
Jaline says she and husband did not have a lot of money, and since she was a stay-at-home mom, she let him decide whether to send their children to Saint John's. Unlike her, he had attended public school.
"We didn't have two pennies to rub, and he said to me, and I've never forgotten this, 'There has always been something special about Saint John's kids.' He said, 'I want our kids to have that.'"
Amy and Sarah were the ones who benefited.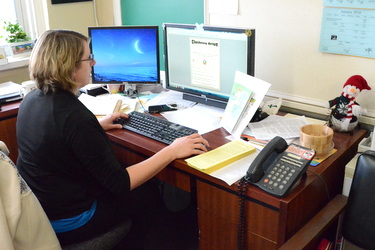 "It was fun. It was hard work, good expectations. I'm an overachiever, so for me, it was great," says Amy. "It definitely prepared me for high school, being organized, and then that translated to college as well and being prepared for that, knowing how to take notes, knowing how to study. It was definitely a close-knit group of people. We had fun."
"Again, home," says Sarah. "This was our church and our school, and this was where I was going to go. It was never a thought of going anywhere else."
As with her mother, Amy says the friendships she formed at Saint John's have been long-lasting.
"If you took Saint John's friends, high school friends, and college friends, I have more Saint John's friends than the other two," she says.
And that is one thing that hasn't changed with the passage of time.
"When you come in, you have a bunch of friends," says Jillian. "All your friends are happy to see you, and if you're the first one there, they're all like, 'Hey, Jill! How are you doing?'"
"I have a lot of friends," says Abigail.
Although Amy and her family live in Leeds, Amy says there was never a doubt which school her children would attend.
"It was a no brainer."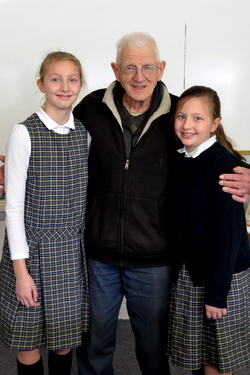 She says she is happy with the education her daughters are receiving.
"They really have enjoyed the teachers. The teachers have really worked hard to make sure they're getting the best out of my girls, which is fabulous," says Amy.
"I get to learn a lot of different things," says Abigail. "And I get to pray to God a lot. I like going to Mass every Friday."
Although Amy admits that the girls don't always like the 45-minute drive, she's confident they'll later remember the experience with fondness as she, her sister, her mother, and her grandfather all do.
"They'll look back at it and say, 'Oh, those car rides. They weren't fun, but it was so worth that drive to go to school there,'" she says.
Both Amy and Sarah say they feel fortunate to work at the school.
"I love working here. I love that every day is different. I love the challenge of being in the office and working with parents, and students, and staff members, and with the public," says Amy.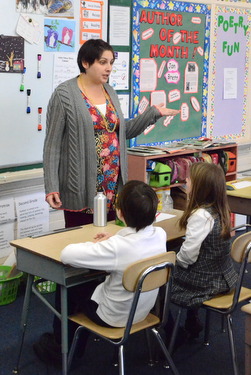 Sarah taught at the school, then moved away with her husband who was in the Air Force, but is happy to be back teaching second grade. She says even though her husband is not from the area, he, too, now feels the Saint John's connection.
"He loves to be a part of it because it is a family for him as well," she says.
Sarah's, Amy's, and Jaline's husbands are all active in the school, as is Larry who has put his carpentry skills to work to make trees and pumpkins and other things for the kids to paint.
Amy says she hopes other people will come to discover what her family has.
"Catholic education is for everybody. It's a home for every person. There is a spot for anyone at Saint John's School," she says.
And while Jillian and Abigail represent the current generation of the Thibeault family to attend, they probably won't be the last. Sarah plans to send her two children there when they are of age and then…
"I think my kids are going to be the fifth generation," says Abigail.
"Mine are also going to be the fifth," says Jillian.

"If I have two kids, and you have two kids, that will be four kids all coming here," adds Abigail.
And what do Abigail and Jillian think about their family's long history with Saint John's?
"I think that's pretty cool," says Abigail.
"That was my answer," says Jillian. "I think it's actually really awesome."