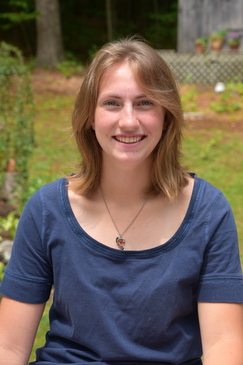 A freshman at the University of Maine in Orono, 18-year-old Amber Delaney is settling into college life. It's quite a change from her hometown of Livermore, but Amber says there has been one constant in her life – her faith.
"If I didn't have it, it would be really hard for me to be on the path I am right now," she says. "I honestly don't know where I would be without it."
Amber's faith blossomed through her involvement in youth ministry at Saint Rose of Lima Parish in Jay. It has continued to grow thanks to campus ministry.
"The Newman Center connects you with people who think the way you do and who can help you deal with problems that come along with your first year of college," Amber says.
Amber's father is Catholic and her mother is Baptist, and she says as a young child she did not go to church. Her parents, however, began attending Mass at Saint Rose, and when Amber was in the fourth grade, she and her sister went through the Rite of Christian Initiation of Adults (RCIA) and entered the church, joining their brother who was in second grade at the time.
"I definitely got a lot out of it," she says.
As a teen, Amber became involved in youth ministry. She says one of her first experiences was attending Journey, a diocesan retreat presented annually at Saint Dominic Academy. She says it was eye-opening.
"It was just all people of the same age going through the same thing, all connecting in Christ. And it was the first time that I met Father Nate (Nathan March). Just having a younger priest, it is easier to connect with what they are saying sometimes," she says. "It was very moving."
She says it was also a lot of fun.
"I went with a couple people from our church, and we got to sleep in the classrooms on the floors. It was a nice bonding time," she says.
Amber says youth ministry was a new experience for her because there was more discussion, and it was more personal.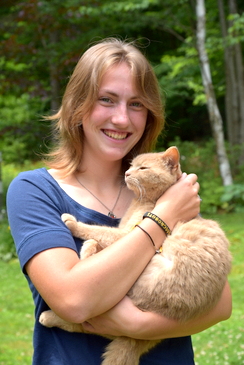 On the recommendation of others, she attended New Evangelization Week (N.E.W.), a weeklong program for teens focusing on evangelization and discipleship.
"It teaches you the deeper parts of your faith and then gives you the tools to go out and spread it," she says. "They taught us different ways of showing people love and just being an example to people of God's love. You don't even necessarily have to be super vocal about it. If you're there for them as a good example of how a good Christian lives and how happy you can be, that's one of the strongest things you can do."
And it's something Amber has committed herself to doing. Attending a public high school and state university, she says while it's not always easy to talk about her faith, she always tries to live it.
"I just focused myself on ways of giving back to others," she says.
In high school, Amber, who played several sports, joined the Fellowship of Christian Athletes, an interdenominational Christian sports ministry program that met at her school. She also participated in the Leo Club Program, which is associated with Lions Clubs, and she was a member of the National Honor Society. Amber volunteered at the food bank, participated in community fundraisers, helped her mother at the community garden, taught children about science and engineering at a local festival, and more.
"It's just a good feeling, a very fulfilling feeling, when you can do something good for someone, and you see how that helps them," she says.
Amber was also active in her parish. She served as a reader at Mass, and for three years, she provided the voice of Mary, the narrator for the youth ministry's presentation of the living Stations of the Cross.
"It's a very solemn portrayal. It is a lot of work, but it's really satisfying," she says. "You can see that people are moved to tears and are very emotional. I just felt it was a good way to get in the mindset for Lent."
Youth ministry coordinator Penny Laverdiere remembers when Amber first auditioned for the role.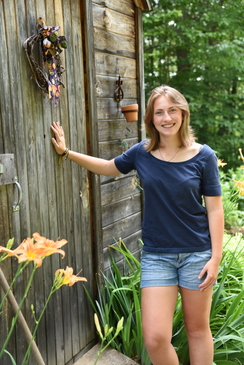 "She started reading, and Donna (Storer) and I just looked at each other and said, 'Holy macaroni,'" says Penny. "We're looking at her and saying, 'There is Mary, right here.' I mean this girl is a freshman. She had never done live stations, never read it, and she picked up that paper like she had been doing it her whole life."
Penny says the performances were even more memorable.
"It was so meaningful that people would all tear up just from her reading. They watched the production, but it was Amber's voice that made it. It was her voice that made Mary come to life," says Penny. "You could feel Mary through Amber."
According to Penny, that is just one of the many ways that Amber stood out.
"Any community service project we've ever had, she was always there to help. She has the soul of the Blessed Mother. She really does. She looks out for everyone else more than herself," Penny says. "I've never heard her say an ill word about anyone, ever. Not one time. She's just a saint."
For the way that she witnesses to her faith, Amber received a Saint Timothy Award at the 2016 youth convention. The awards recognize youths who live as disciples of Christ and are examples to others.
"She is a model of Christian values, active in her church, and devoted to her faith. She exemplifies compassion and charity through her community service efforts. She demonstrates a passion for making the world a better place," Rob Taylor, one of her teachers, wrote in nominating her.
Amber was salutatorian of her class. Active in both the Robotics Club and on the Envirothon team, she decided to major in mechanical engineering but wants to pursue a career in renewable energy.
Although Amber's college schedule is packed with courses and an internship, she makes sure she finds time to head to the Newman Center for Mass, meals, and Bible study, guided by FOCUS missionaries.
"We're focusing right now on the Acts of the Apostles," she says. "It's sort of focusing on where the apostles' teachings were based and how we can grow in faith by basing our lives and our evangelization in those things."
As a result, the seeds planted in youth ministry have found fertile ground.
"They welcomed me right in. It was really nice," she says. "They've been really helpful on furthering my faith."