"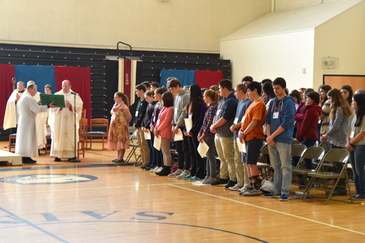 How is it that God wants me to live my life?"
That is the question Bishop Robert Deeley asked teenagers to ponder as they gather for the annual Journey retreat, held at Saint Dominic Academy in Auburn.
"We spend a lot of time thinking about what kind of career we're going to have and what kind of job we might want to do, and what school we might attend. What Jesus invites us to do is go deeper," the bishop said. "The decisions that we make in life are not just about this life. They're not just about what we're going to do now, during this period of time when we live on earth, but it's who we want to be when we present ourselves to God in eternal life."
One hundred thirty-five teens from around the Diocese of Portland are attending Journey, a retreat intended for high school youth who want to strengthen their relationship with Jesus Christ. Many find it so moving, they can't wait to return year after year.
Evelyn Castonguay, from St. Rose of Lima Parish in Jay, is attending for the fourth time.
"Spiritually, I'm getting closer to God at Journey, and I like that feeling. You just feel that inside you, and it's a great experience. It's just so nice," she said.
Sara Philbrick, from Good Shepherd Parish, Saco, said a powerful encounter with God that she had last year, brought her back this year.
"I was going in, in a really bad place, and once I had left, I was filled with God's grace and God's love, and I had started working on my relationship with God again," she said. "I plan to come every year that I can to, hopefully, have a similar experience or a brand new one that will change me the same way that one did."
This year's theme is "Embark on the Journey: Encounter, Embrace, and Echo the Risen Christ," chosen in hopes the retreat will help the teens embark on a journey with Christ, have an encounter with him, embrace his message, and then return to their parishes ready to share it with others.
"This weekend, you're spending time being with the Lord Jesus and encountering him. That is the first thing: encountering him," the bishop said. "He is not distant from us. He wants to talk with us. He encourages us to bring to him what is on our minds, the questions we have.  That's the purpose of this weekend: to give you an opportunity to put other things out of your mind and to have an opportunity to encounter Jesus and be embraced by him."
The bishop encouraged the teens to start and end their day with prayer, saying that is how they will get to know Christ more intimately.
"We need to take time to pray. We need to take the time to remind ourselves that he is with us, and that he walks with us, and that he helps us," the bishop told the teens during the Mass. "We know that he is here in the Eucharist, but he is, as well, with us in all the other activities of our day, in all the other things that we do. That is why it's good for us, in the morning, when we first wake up, to remind ourselves that Jesus is with us, to say a prayer. Then, at the end of the day, to give thanks for the ways in which Jesus was present to us during the day."
Journey provides many opportunities for prayer, both as a group and in silence before the Blessed Sacrament. The retreat includes morning and evening prayer, perpetual eucharistic adoration, Stations of the Cross, opportunities for the sacrament of reconciliation, small group discussion, and talks.
The retreat, held November 18 - 20, is jointly sponsored by the Office of Vocations and the Office of Lifelong Faith Formation.  This year, it coincided with the end of the Jubilee Year of Mercy, which the Church has been celebrating since last December.
"I think this weekend is really special because it gives us a chance to conclude the Year of Mercy being with Jesus the whole weekend, experiencing reconciliation and adoration," said Grady Connolly, age 17, from St. Thérèse of Lisieux Parish. "Being with him to close out the year, I think, is a really special opportunity for everybody."
"What I really hope that the young people take away from the Journey retreat experience is having taken advantage of the opportunity to get closer to Jesus and to get to know him a little more intimately and to realize that Jesus is with them every step of the way. No matter what, no matter when, no matter who, Jesus is there," said Maureen Provencher, from the Office of Lifelong Faith Formation. "I also hope that they take away the realization that Jesus counts on them, as well, to echo the Risen Lord, to tell the Good News, to let others know that there is hope, and there is love, and there is joy, and there is life in this world."
Joshua Guillemette, age 18, from St. Thérèse of Lisieux Parish, said the opportunity to share the Good News is why he is pleased to have been chosen as one of the retreat's emcees.
"That way, I can lead by example to show the youth how you can create a closer relationship with Christ," he said. "We need to have more youth leaders to be able to show the young people how we can come together and form that bond of Christ and that bond of friendship."
Jacob Olson, from Our Lady of the Snows Parish in Dexter, said that is what he is seeking at Journey.
"I think just having a stronger relationship with God, just learning more and bringing it back to my parish," he said. "So far, I think it's great. I've learned some stuff, and I got to make a few more friends and see my old friends."