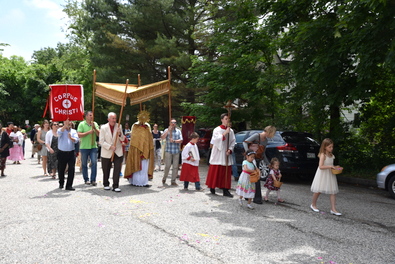 Members of St. Louis Parish in Portland celebrated the Solemnity of the Most Holy Body & Blood of Christ with a Eucharistic procession into the neighborhood.
Dating back to the 13th century, the solemnity, more commonly known as the Feast of Corpus Christi, is a celebration of the real presence of Christ in the Eucharist and of the institution of the Eucharist at the Last Supper. It is commonly marked by Eucharistic processions, during which the Blessed Sacrament is carried into the streets.
St. Louis parishioners set up four altars outside the church -- one on the street, one on a neighbor's lawn, and two in the yard of the church. Led by young children sprinkling flower petals, Father Kyle Doustou, parochial vicar of the Portland Peninsula & Island Parishes, carried a monstrance holding the Blessed Sacrament to each of the altars, as parishioners processed alongside and behind him.  At each of the altars, a Gospel reading was shared, the Blessed Sacrament was incensed, prayers were offered, and hymns were sung. Many parishioners knelt on the lawn or the street in prayer before the Blessed Sacrament.
The readings, prayers, and hymns were offered in English and Polish. St. Louis Church is the only Polish church in the Diocese of Portland.   In Poland, the Feast of Corpus Christi is a national holiday.
About seventy-five people took part in the procession in Portland, which concluded with Benediction of the Blessed Sacrament at the fourth altar.
Corpus Christi Parish in Waterville, Good Shepherd Parish in Saco, and Prince of Peace Parish in Lewiston also held Eucharistic processions in celebration of the feast day.
While the institution of the Eucharist during the Last Supper is also commemorated on Holy Thursday, the Solemnity of the Most Holy Body and Blood of Christ focuses solely on the gift of the Eucharist.  The mood is also more joyous than that felt on Holy Thursday, the day before Christ's passion and death.