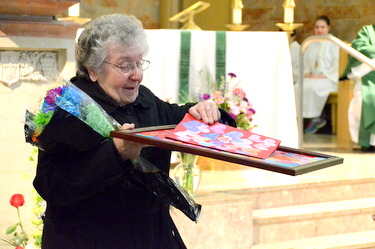 Students and staff at Saint Thomas School in Sanford held a celebration recently to say thank you to a special volunteer, Sister Elizabeth Cobb, RSM, who has spent a lifetime furthering Catholic education in Maine, most recently at Saint Thomas.
"She gives so much.  She is such a giving person," says Joanne Cusack, school secretary.
Sister Elizabeth is celebrating her 62nd year as a Sister of Mercy, which she has spent in teaching and school administration. She has taught at Saint Mary School in Westbrook, Holy Cross School in South Portland, John Bapst High School in Bangor, and Saint Joseph School in Lewiston.  She served at principal of Saint Mary School in Biddeford, Catherine McAuley High School in Portland, and Saint Joseph School in Portland.  When she was at Saint Joseph, she was called upon to become superintendent of Maine Catholic Schools, a position she held from 1985 to 1996, when she headed to Bangor to be a principal of Saint John School there. She then served as principal of Cathedral School in Portland and as a teaching principal at Saint Agnes School in Pittsfield.
Although she is now retired, her love for education never left her, and for the past eight years, she has volunteered at Saint Thomas.
"I have retired, but you can't get school out of your blood. It's just part of me," says Sister Elizabeth.  "I love being here."
Sister Elizabeth started off at Saint Thomas by helping out Sister Karen Hopkins, a fellow Sister of Mercy who was teaching kindergarten at the time. Now, Sister Elizabeth offers a math enrichment program, working daily with students who excel in math.
"The presence of the sisters is such a gift in our school community. They just bring so much to our school," says Donna Jacques, principal.  "Our staff prays together every morning, and they're there with us. It's a wonderful gift."
To say thank you for all that Sister Elizabeth has done, the school gave her flowers, a gift, and artwork covered with hearts, which the students made. They were presented to her at the conclusion of a Mass celebrated during Catholic Schools Week at Holy Family Church in Sanford. Impressively, the students managed to keep the presentation a secret, not revealing it until Jacques asked them which special volunteer they were honoring, and they all shouted out in unison, "Sister Elizabeth!" They then gave her a round of applause.
Sister Elizabeth was clearly touched by the show of gratitude.
"I don't even have the words to tell you. I just appreciate their appreciation," she says.
Following the Mass, a hospitality tea was held in her honor.