"The ordinary minister of confirmation is the bishop" (Canon 882)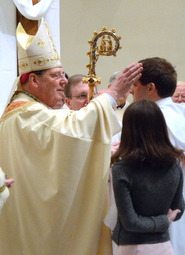 The Most Reverend Robert P. Deeley, Bishop of Portland, will celebrate the Sacrament of Confirmation for baptized Catholic teens and adults at three locations across the diocese.  While candidates participating in the Rite of Christian Initiation of Adults may receive the initiation sacraments at Easter Vigil Mass, these Masses are intended for practicing Catholics who have not been confirmed and, in some cases, who have not received first Eucharist.
Parish representatives MUST register at the link below and fill out a Sacrament of Confirmation form for each individual who is being confirmed.
The dates and locations are:
 ♦ Friday,  April 8, 7 p.m. at the Cathedral of the Immaculate Conception, Portland
 ♦ Friday, April 15, 7 p.m. at Holy Rosary Church, Caribou
 ♦ Friday, April 22, 7 p.m. at St. John Church, Bangor
Please contact your parish office if you believe this opportunity is for you.
Parish representatives click here to register.
Parish representatives click here to download a copy of the Sacrament of Confirmation form (one for each individual).  (You may need to download this form to your computer to write on it.)