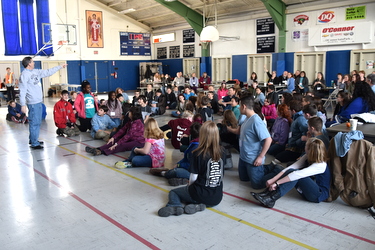 One hundred thirty middle school-aged youth and their parents gathered in Augusta on Saturday, March 4, to learn the fundamentals of bridge building, not the kind that span waterways, the type that connect people.
"It's important to be a bridge," said Anthony from Christ the King Parish, Skowhegan.
"Try to be more open minded about people and get to know them better before you make decisions about them," said Julia from Good Shepherd Parish, Biddeford.
The rally in Augusta provided an opportunity for youth in grades six through nine to gather with their peers to celebrate their faith and the gifts they bring to the Church, to help them become more aware of God's presence in their lives, and to encourage their participation in the life and mission of the Church, through their parish communities.
The rally, sponsored by the Office of Lifelong Faith Formation, included workshops, small group sessions, and activities, both for the youths and for their parents. 
The theme of the day was "Build a bridge, love your neighbor," and that is what keynote presenter Mike Patin tried to help the young people understand how to do.
"We all have things in common, no matter how different we are," he told them. "We have stuff in common, the thing is to figure that out and to build those bridges."
To help the young people discover just how much they have in common, he had them break off into pairs and then gave them challenges, such as discovering similar places they have visited in Maine or similar foods they have recently eaten.
"You have to figure out what you have in common with people who seem different. We both may like ice cream. We both might like the Patriots," he said.
Patin, a former high school teacher and coach who travels around the country speaking to youth groups, said no matter what a person looks like or what image they present, everyone is dealing with something on the inside, such as conflicts with their parents, struggles with homework, or the threat of bullying.
"Everyone has something going on, and you don't know what it is," he said. "Everybody here is searching for something, and everybody here has a story, not a label but a story."
He told them that they need to be bridge builders because bridges don't build themselves.  He gave them an acronym, ARCH, to follow, telling them that you have to ask God to help you see who your neighbor is, you have to try to read what is going on with the person, and then you have to try to connect with them by finding common ground. Finally, he said that it's important to realize that everyone needs help from others and can offer help to others.
"I took away that it doesn't really matter who you are, you can still help someone," said Leah, who attends St. Rose of Lima Parish, Jay. 
"You have to help everyone, no matter what they look like, because it's good to help people," said Hannah, also from St. Rose of Lima.  
"It's important to show mercy to others because there a lot of people going through things you don't know about and not to judge others," said Julia.
"Everybody is going through something, and you just don't know it, so you have to be nice to everyone," said Haley, from Corpus Christi Parish, Waterville.
The young people also contributed to a giant mural, sharing their individual impressions of what it means to build bridges and love your neighbor.
In addition to Patin's presentation, Katy Sparda-Cloutier addressed the group about being "Social Media Smart."  Katy, a wife, mother, and licensed clinical social worker, offered advice to both the adolescents and their parents.
The Augusta rally was one of two being held for middle school youths on the weekend of March 4-5.   A similar gathering is being held in Presque Isle on Sunday.