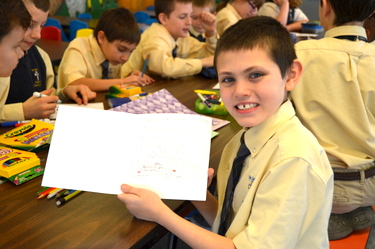 With markers, crayons, scissors, and glue, students at St. John Regional Catholic School in Winslow began Catholic Schools Week by creating Valentine's cards for police officers, firefighters and veterans.
"I think it's important because they risked their lives for us, and we should show our appreciation.  And both of my grandparents are veterans," says Julia Bard, a seventh grader.
"We made our cards because it's important for the firefighters and the police to get thanks for what they do because they work very hard every day and risk their lives," says Chase Larrabee, a third grader.
"They help us with everything. They help keep our city safe and do a lot," says Giovanni St. Onge, a fourth grader.
The cards will be delivered to police and firefighters in the communities of Fairfield, Oakland, Waterville, and Winslow.  The cards for veterans will be send to Togus VAMC.
Along with the traditional heart-shaped cards, some students created artwork depicting police and firefighters in action.
"I'm making a picture of a fire truck saving a giant penthouse, and there's water shooting out, and there is a guy driving the fire truck, and it's sunny out," explained Chase.
Many of the students also took time to include special messages of appreciation.
Shaun Soucy, a third grader, wrote: "Thank you for your magnificent work. You are brave and protect everyone. Police officers have to be kind and caring. We thank you for all you do."
Chase included this sentiment: "Thank you for being so patient for the people in need and making sure everybody is safe and o.k. I also thank you for being intelligent and knowing what to do in an emergency."
In addition to being part of Catholic Schools Week, the card-making project is also a way to celebrate the Year of Mercy.  Principal Valerie Wheeler says she hopes the cards put smiles on the faces of the recipients, and she hopes that creating them gives the students a greater appreciation for those in public safety and in the military.
"This is our way of making the students aware of the things they've done for us and to kind of give back," she says.  "I think it helps formulate who they will be later on. It's part of our faith."
In addition to making Valentine's Day cards, the school is also collecting baby items to help new mothers being served by Saint Andre Home.