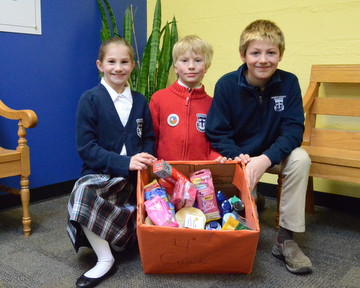 Throughout Catholic Schools Week, students at Mount Merici Academy in Waterville are collecting items to be donated to the Mid-Maine Homeless Shelter.  Each grade, from pre-K through grade eight, was given a different item to donate.  They include tissue, toilet paper, razors, shaving cream, toothpaste, shampoo, conditioner, deodorant, soap, and socks.
"I think it's a good thing to do because we're very lucky to have what we have, and we want other people to feel the same way, so that they know they're special," says Caden Cote, whose sixth-grade class is donating razors.
"I think it's important to collect deodorant because, say you're at sports, and you don't smell that well, you need something to make you smell better," says Siena Klasson, a fifth grader.
"If you're playing in the mud, you can get clean. You can take a shower," adds second-grader Thomas Labbe, whose class assignment is shampoo.
As an Ursuline school, Mount Merici is committed to teaching students the Ursuline Sisters' tradition of Serviam or service. The students not only do service projects during Catholic Schools Week, it is part of the curriculum.
"Our students, and our faculty, and our staff live Serviam, meaning 'I will serve.' And when we talk about a service project, the staff and the students actually get involved, and they talk about what they need and what's needed in the community," says Victoria Duguay, principal.
Duguay says the school has partnered with the Mid-Maine Homeless Shelter in Waterville several times now, and that has included the director coming to speak to students about those who sometimes have to go without.
"She told the students there were other students out there without socks. And now, they realize that they don't have toothpaste, and they don't have shampoo. Students as young as kindergarten can understand that they can make a difference."
"It's important to think of others as family," says Siena. "You might think of this person as family because you're helping them achieve something or helping them get something that they never had."