BATH---The Sacred Heart Eucharistic Adoration Chapel in Brunswick is organizing "Mary's Day" at St. Mary Church on 144 Lincoln Street in Bath for Saturday, May 13.
All are welcome to attend the celebration marking the 100th anniversary of the appearance of Mary to three young visionaries in the town of Fatima, Portugal, and honoring her message of peace.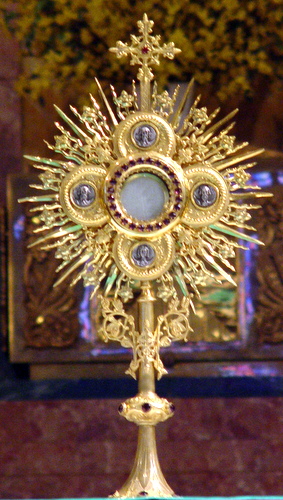 The event will begin with a Mass and May "Crowning of Mary" procession starting at 9 a.m. Refreshments will be served after Mass. At 10:30 a.m., Dr. Joseph Ricciardi, a psychologist from Massachusetts who serves people with disabilities, will offer a presentation entitled "Blessing and Gift." Dr. Ricciardi also coordinates eucharistic adoration at St. John the Evangelist Parish in North Chelmsford, Massachusetts. Following the presentation, there will be exposition of the Blessed Sacrament, benediction, and a recitation of the Rosary at 11:30 a.m.
The Sacred Heart Eucharistic Adoration Chapel, located on 33 Pleasant Street in Brunswick, is open nearly 100 hours each week. During adoration, a consecrated host, the real presence of Jesus Christ, is left exposed on the altar in a holder called a monstrance. Although it is not necessary to have the host exposed for adoration to take place, those who participate say it adds to the feeling of closeness to Christ. The chapel always welcomes new adorers. Current participants come from nearly all seven of All Saints Parish's churches.
For more information about the chapel or "Mary's Day," contact Joann Finn at  jimandjoannfinn@comcast.net.