SOUTH PORTLAND---"Three, two, one, go!"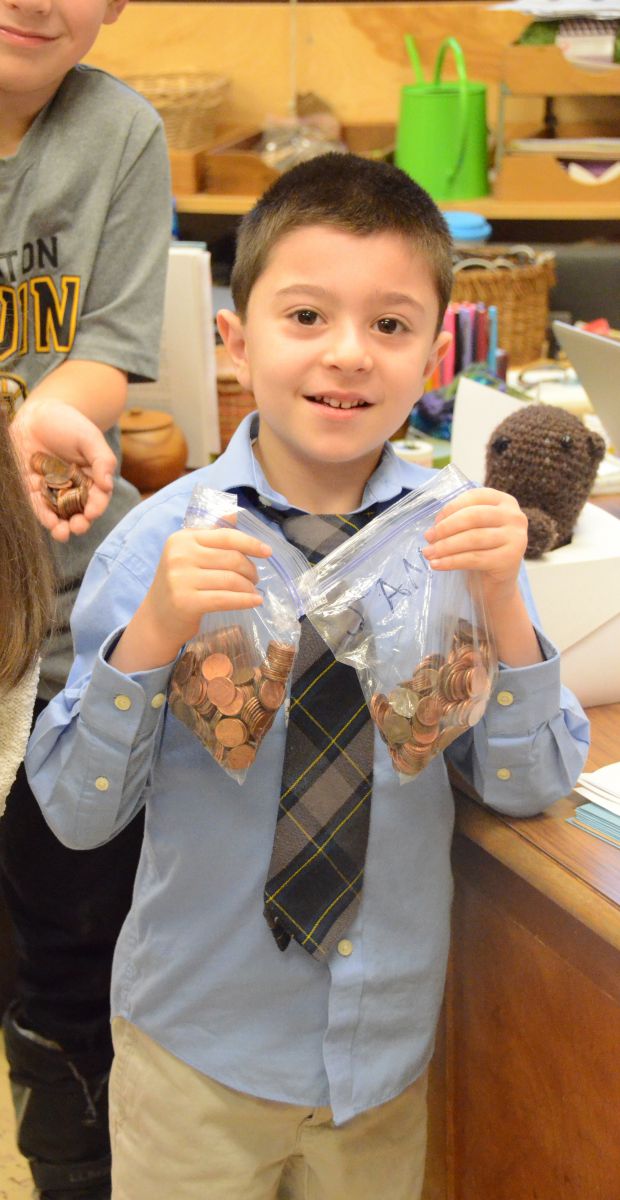 said Holy Cross Principal Christine L'Abbé over the intercom, prompting all students in the South Portland school to rise up, bags of coins in hand, and race from room to room for the "Penny Wars." Pre-kindergarteners to eighth graders get caught up in the friendly competition, which has many layers but one big winner over 8,000 miles away.
Each classroom in the school had a jar marked "Penny Wars." From 8:50 a.m. to 9 a.m. during Maine Catholic Schools Week, Holy Cross students went from classroom to classroom placing pennies, silver coins, and paper money into other jars. In most competitions, dimes, quarters, and dollar bills would be welcome, but not here.
"Silver and paper money are bad. Anything but pennies actually gets deducted from your overall total for the week," said Zack DiCelico, an eighth grader. "It's bad for the competition, but good for who is getting all of the money, of course."
That would be the Ngamo Primary School in Zimbabwe, a frequent recipient of the generosity and kindness of Holy Cross families since L'Abbé visited the area on an African safari last March.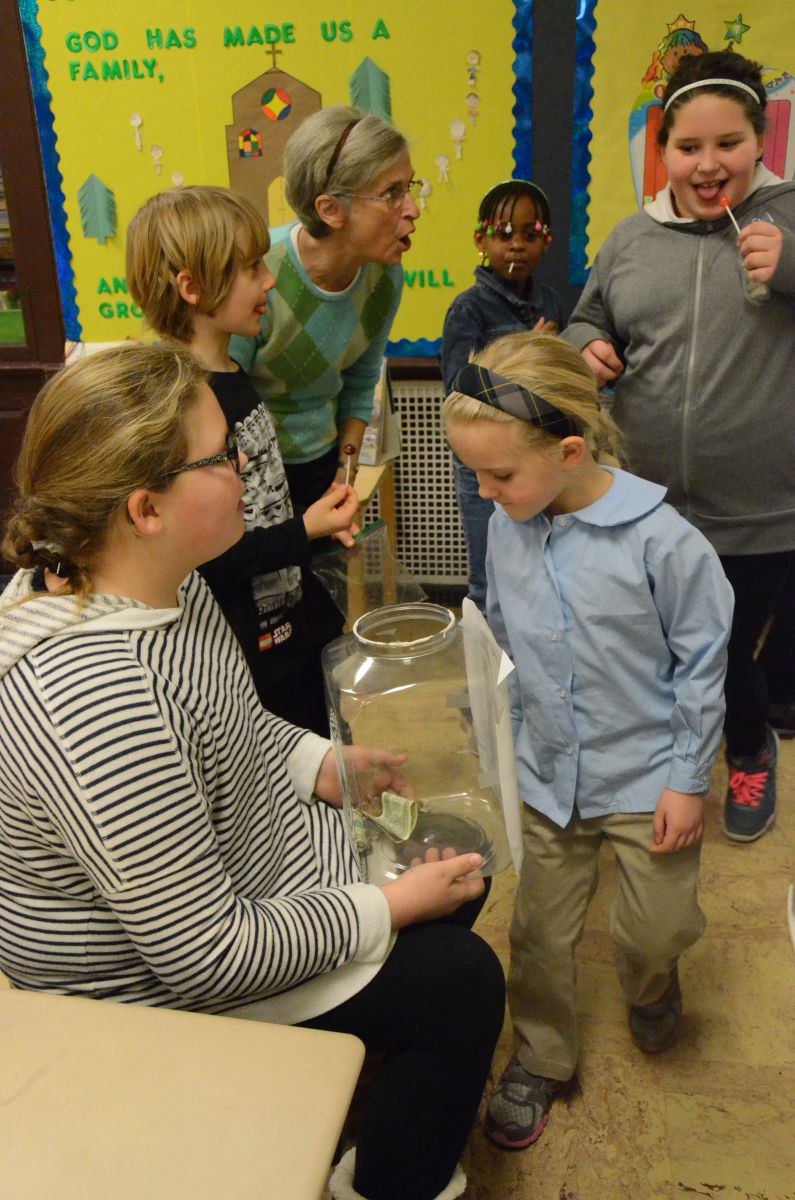 The "Penny Wars" generated $1,442.75, all of which will be sent to Ngamo to help students pay their school fees. The fees are $10 a trimester per pupil, often a figure too high for many in the village to afford.
Their plight inspired many during the competition.
"It was crazy when somebody dropped twenty dollars in," said seventh grader Dominic Borrelli. "The money helps the kids in Zimbabwe in such a big way. Twenty dollars, that's two trimesters for a child. The 'Penny Wars' really helps bring our school together to help."
"It's a lot of fun. Everyone competes with other," said sixth grader Abby Jennings. "It's my favorite part of Catholic Schools Week!"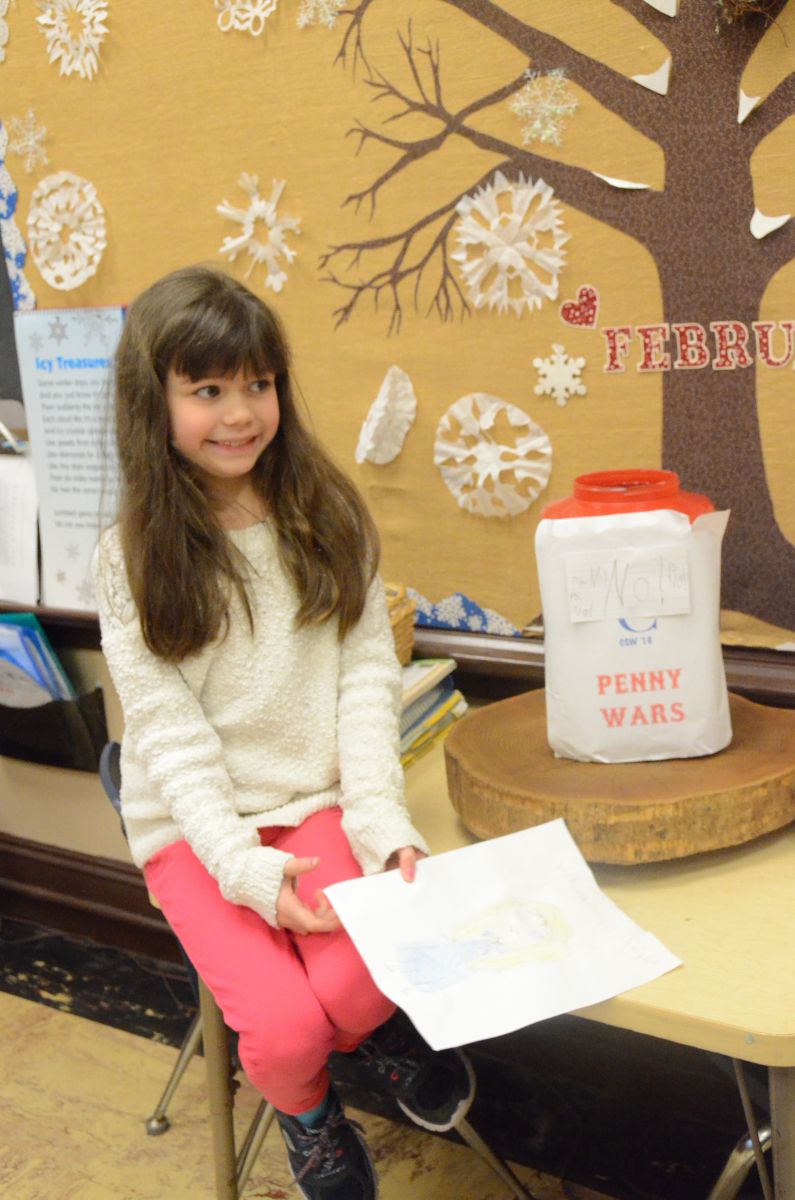 That competition extended to the adults.
One teacher, Jim Blaich, gave out lollipops to discourage students from putting paper money in his classroom, "bribing" them to deliver it to another room instead.
"I don't know if it works," said DiCelico. "I think kids take the lollipops and still do it anyway."
Another teacher, Bill Ridge, said he kept a list of all the students who put large amounts of silver coins and paper money in his classroom's jar.
"If the eighth graders put silver in his jar, he makes us run longer at basketball practice," joked eighth grader Sean Sullivan.
Competition aside, knowing that they worked together as a school community to share God's mercy with children in need makes Holy Cross students feel good about the competition and themselves.
"We are so privileged and we want them to be able to go to school and learn," said DiCelico. "We have fun and help other kids at the same time. We couldn't ask for a better activity."