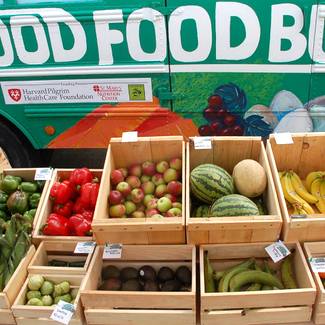 The Good Food Bus, a colorful, mobile food market, will hit the road for its second full season on July 18, 2017.
All are welcome to shop at the Good Food Bus, which stops in neighborhoods and at businesses across Lewiston-Auburn, Bath, Gorham, and Westbrook. Customers shopping at the Good Food Bus will find a wide selection of local, fresh fruit and vegetables, along with favorite foods from away such as citrus and bananas.
"Seeing all the different veggies makes me want to try new ones!" stated a customer in 2016.
Other items for sale will include eggs, cheese, and bread; pre-prepared, frozen lunch items; and, at select stops, meal bags stocked with a recipe and all the ingredients needed to prepare a delicious and healthy dinner.
Cash, credit/debit, SNAP/EBT, and WIC coupons will be accepted at all stops, and SNAP/EBT and WIC customers will be able to get twice the fruits and vegetables for their dollars through the Maine Harvest Bucks and other programs.
Led by St. Mary's Nutrition Center and Cultivating Community, with support from a multi-year grant from Harvard Pilgrim Health Care Foundation and other generous contributors, the Good Food Bus brings good food directly to where people live and work across three Maine counties.  A priority of the project is to ensure healthy food makes it into households that may experience food insecurity. Another is to support Maine farmers and distributors in reaching new customers. This year, a new vehicle set-up will position the Good Food Bus to better meet these goals.
Previously a 30-foot school bus, the Good Food Bus was transformed this spring into a spacious truck and trailer with two large concession windows, allowing for improved access for shoppers and the ability to handle more stops.
"We are really excited for the new and improved Good Food Bus," said Price Hulin, Good Food Bus Coordinator. "Our market model is attractive, user friendly, and will allow us to reach more people in the communities we serve."
Last year, there were  nine stops, at which $20,000 worth of food was sold to approximately 700 households, with 42% of sales to households with low incomes. The Good Food Bus has 11 confirmed stops to start off the season with more to come as the summer progresses.
In addition to the Good Food Bus, Harvard Pilgrim Health Care Foundation funds mobile markets in Worcester and Lowell, Mass.; Hartford, Conn.; and New Hampshire seacoast.
"Harvard Pilgrim Foundation is thrilled to support the Good Food Bus in bringing fresh, healthy and affordable food to locations in Maine where it's needed most," said Karen Voci, president of the Harvard Pilgrim Health Care Foundation.  "We know it's not always easy for people to access healthy food, and this mobile market is helping to make that easier."
Since 2015, the Foundation's Healthy Food Fund has supported 26 food projects in Maine, Connecticut, Massachusetts, and New Hampshire. Since then, the amount of healthy, local produce distributed to low-income families through local partners has increased 87 percent.
To learn more about the Good Food Bus, visit www.facebook.com/GoodFoodBus, email goodfoodmoves@gmail.com, or call St. Mary's Nutrition Center at 207-513-3849.
​2017 Confirmed Good Food Bus Stops
Tuesday
12:00 pm - 12:30 pm, Goodwill Industries, 34 Hutcherson Dr., Gorham
1:30 pm - 2:30pm, Westbrook Pointe Apartments, 26 Prospect Street, #41, Westbrook
2:00 pm - 5:00 pm, St. Mary's Nutrition Center, 208 Bates Street, Lewiston
3:30 pm -5:30 pm, St. Hyacinth Church, 268 Brown St., Westbrook
Wednesday
9:30 am - 10:30 am, Center for Women's Wisdom, 97 Blake Street, Lewiston
11:00 am -12:00 pm, St. Mary's Integrative Medicine, 198 Main Street, Lewiston
12:30 - 2:00 pm, St. Mary's Regional Medical Center, 93 Campus Ave., Lewiston
4:00 pm - 5:30 pm, Knox Street Community Garden, 61 Knox St., Lewiston
Thursday
11:30 am - 12:30 pm, Bath Iron Works, Bath
Friday
12:00 pm - 1:30 pm, Bedard Pharmacy and Medical Supplies, 359 Minot Ave., Auburn
2:00 pm - 3:00 pm, Lake Auburn Avenue Townhouse, 74 Lake Auburn Avenue, Auburn
4:00 pm - 5:30 pm, Great Falls Plaza across from the YMCA, 62 Turner St., Auburn ​