RUMFORD---One after one, the students at Holy Savior School in Rumford brought bags and bags, filled to the brim with donated items they had collected, to the front of the cafeteria on Monday morning and placed them on the long tables which had been set up for the occasion.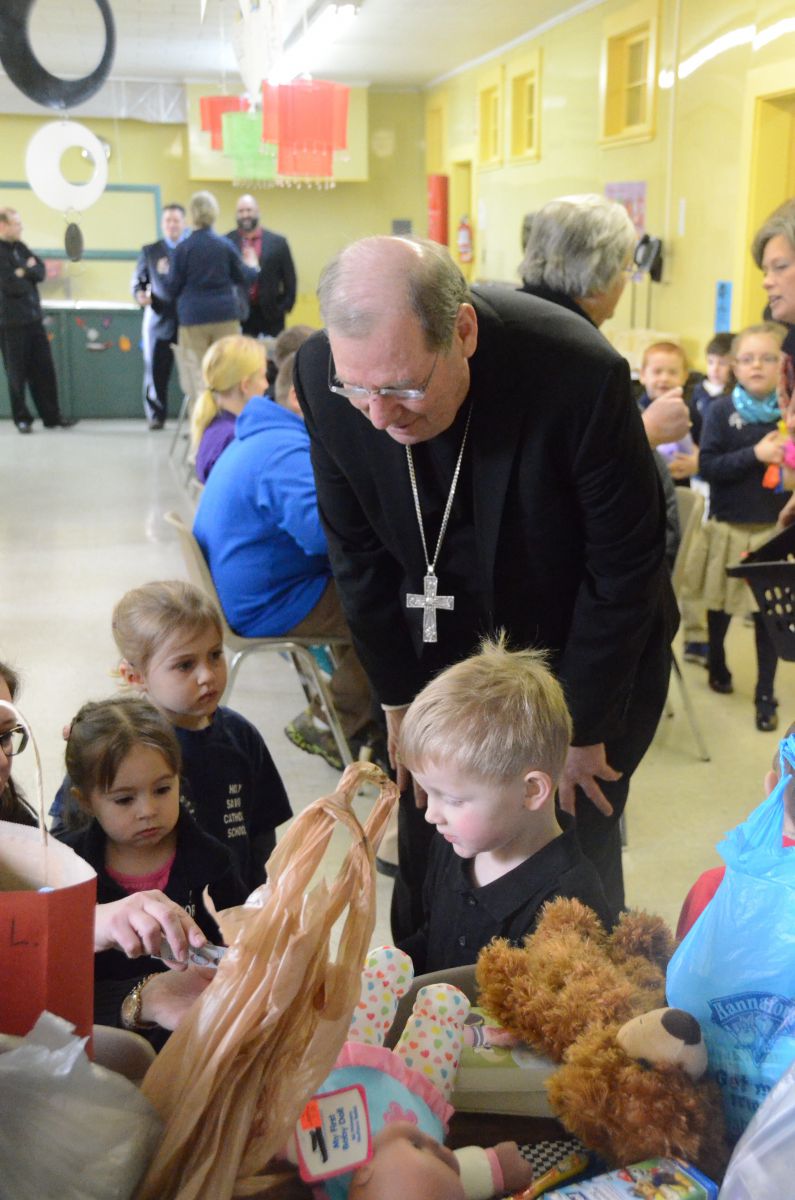 Inside the bags were stuffed animals, toys, books, toiletries, and even handmade donations like quilts. The students smiled as the pile grew bigger, knowing that its contents would soon deliver comfort and compassion to children in need.
As part of Maine Catholic Schools Week (Jan. 31-Feb. 6), the Holy Savior students participated in a service project for the national organization "Bags for Love," which assembles bags of personal care items to be given to children who need to quickly leave their homes in an emergency situation, often ending up in foster care. Since its inception in 2008, "Bags of Love" has distributed over 8,000 bags to children in crisis.
"In this Jubilee Year of Mercy, this project is helping the students understand that sharing gifts we have received in abundance and serving others are ways in which we please God," said Barbara Pelletier, principal at Holy Savior.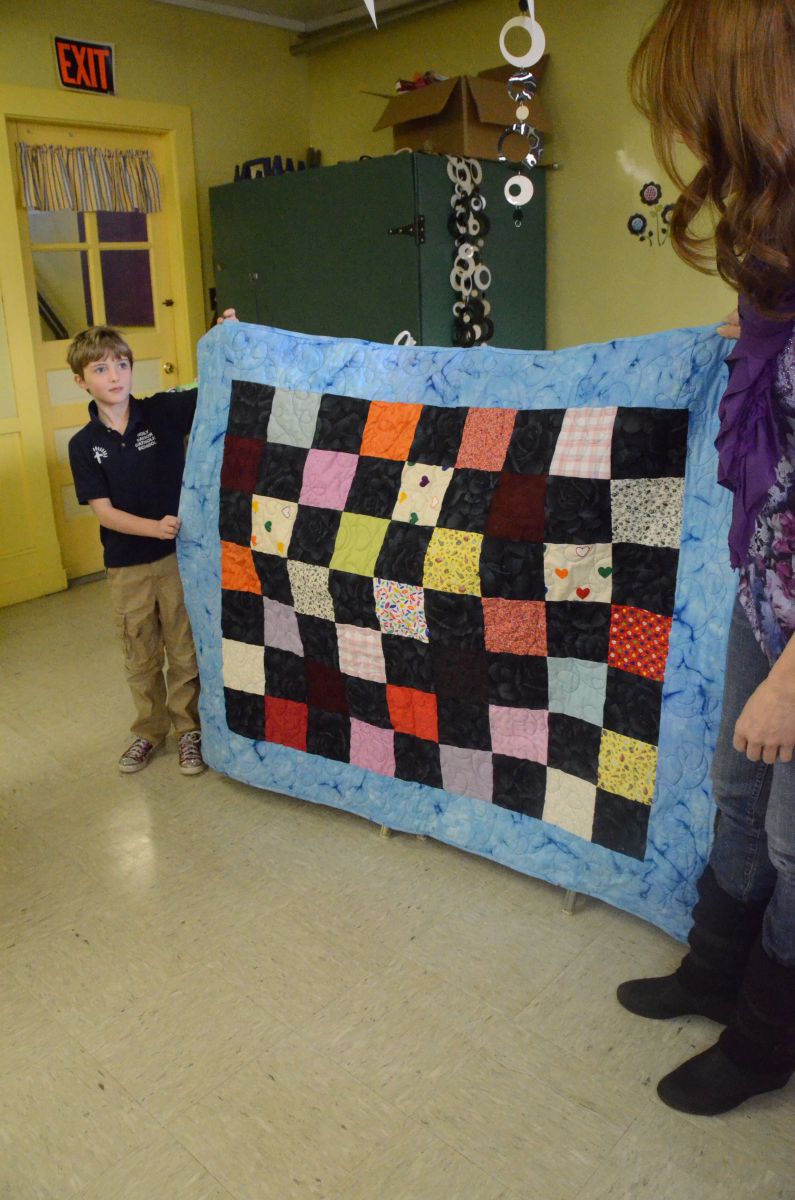 During the assembly to gather the items, one second-grade student, Mariya Gammon, received a round of applause for going above and beyond by making a large quilt with the help of her grandmother.
"It felt good to make it," said Mariya. "It was hard to keep everything straight with the sewing machine, but we had fun. It took days, but it is so important to help people who need it."
Bishop Robert P. Deeley paid a special visit to the school to thank the students for their collective act of kindness, one that truly helps celebrate the spirit of Maine Catholic schools.
"This is what a Catholic school is all about. What we have Jesus gives to us," Bishop Deeley told the students. "We bring the love and mercy we receive from God to others. We want to share with others so they know that God loves them. We can do these things at Catholic schools."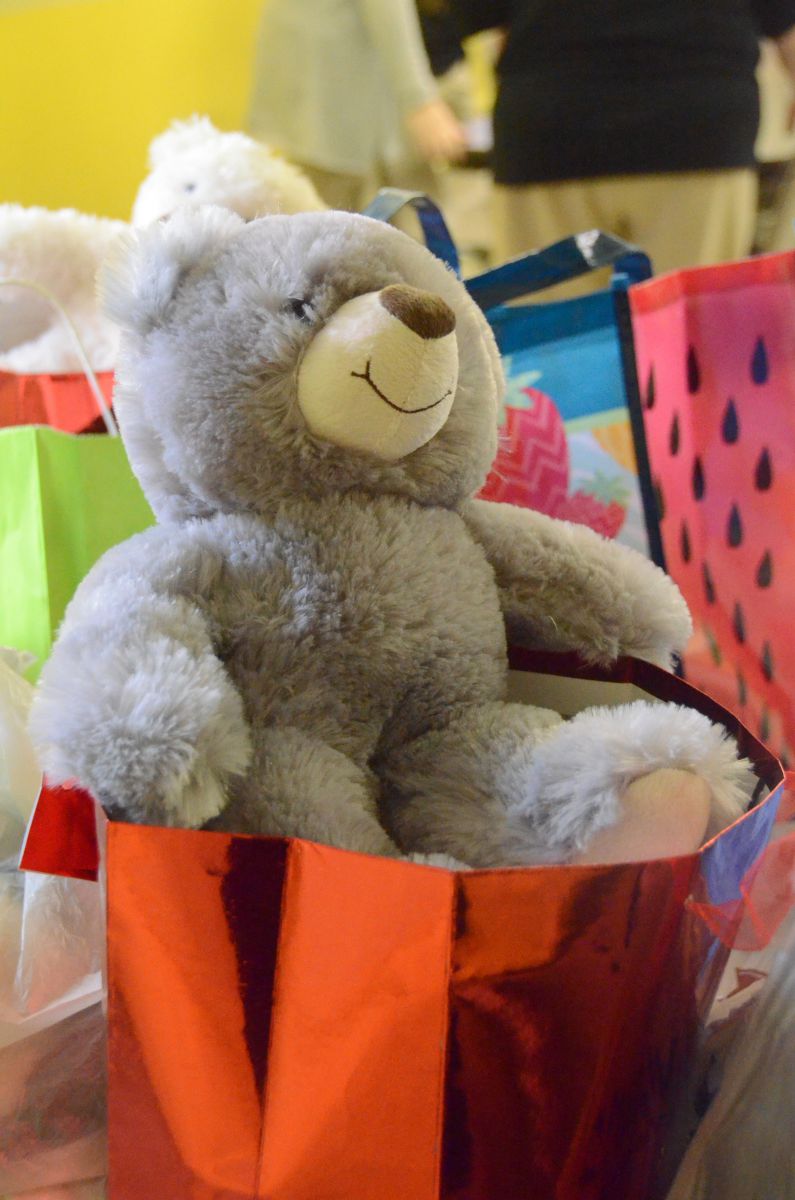 After the assembly, the bishop made his way around the school to speak to the students on a variety of topics, including the Jubilee Year of Mercy. He explained that through works of mercy like the "Bags of Love" project, Holy Savior students are striving to help those around them and acknowledging a common creation in God's love. In one classroom, the corporal works of mercy were listed on the wall as the student's "heartwork" assignments for the year.
"You're helping boys and girls because you know that Jesus loves you," the bishop told a group of second and third graders. "These boys and girls who receive these bags will now have a quilt and other things they can use because of your kindness. You give dignity to those who receive them. You helped them because you've been helped and you've received God's mercy."
Maine Catholic Schools Week celebrates the mission of Catholic schools: to evangelize students by nourishing faith and encouraging academic excellence while accentuating the importance of community and service in a nurturing environment.
A special section of the diocesan website has been created which includes a description of each school's service projects and schedule of activities for the week. To view the section, click here.