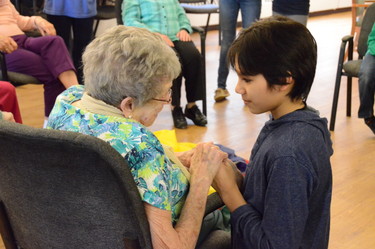 "I want to be a marine biologist.  That's someone who discovers undersea animals."
Samuel Brissette-Hatch, a fifth grader at All Saints School in Bangor, shares his career aspirations with Marjorie Surles, one of the residents of the Phillips-Strickland House in Bangor.
"Did you like school?" he asks of her, kneeling beside her chair so they'll be at eye level.
Samuel and 10 other All Saints students celebrated Catholic Schools Week and the Year of Mercy by heading over to the nearby assisted living facility to visit the residents and to present them with gifts.  The items included shampoo, lotion, pens, stationery, and chocolate, donated by students from kindergarten through grade eight.  In all, four large boxes were collected, with more on the way.
"We're over here because we donated some gifts for Valentine's Day," says Samuel, "to make them feel special and feel like they're not alone."
"I'm always overwhelmed by how much our families and students give," says Joseph Gallant, principal
Along with the special delivery, the students and residents played a parachute game together, then spent time getting to know one another.   
"We're talking about ourselves and each other and the past and what's been happening now, stuff like that," says Collin Scobie, grade 6.
It was difficult to tell who enjoyed the visit more, the students or the seniors.
"I think it's tremendous when the children come and do these things for us," says Lillian Crocker, age 94. "It's very special."
"I didn't know they were coming until the last minute...so I got ready quickly and came right out here," says Diana Lindsay, age 78. "I think the kids enjoy it and us, too."
"It really is heartwarming to see the kids interacting with the residents," says Gallant. "They're enjoying it as much as the residents are, getting a chance just to share with them and spend some quality time with them."
The students have visited the house in the past including singing carols at Christmas, but this time, in celebration of the Year of Mercy, the school decided to do something a little extra and came up with the idea to collect and donate items.   The school contacted the Phillips-Strickland House to find out what types of things the residents would need and want.