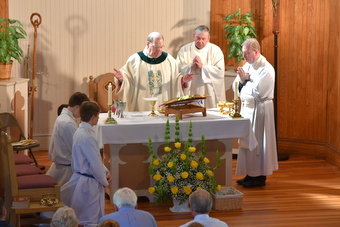 "Grant us, O Lord, that amid the uncertainties of this world, we may cling with all our heart to the things of heaven, for through the Abbot, blessed Saint Brendan the Navigator, you have given us a model of evangelical perfection." - Bishop Robert Deeley
Bishop Robert Deeley joined with parishioners and summer visitors on Sunday, August 21, to celebrate the 100th anniversary of Saint Brendan Church in Biddeford.
"There is much that is good that we celebrate in this anniversary," the bishop said. "The chapel was built so that the Mass was available to people who otherwise would find it difficult to get there. For these 100 years, the Mass continues to be celebrated here, and those who come continue to draw spiritual strength from it.  That is truly something to celebrate."
Saint Brendan, located in Biddeford Pool and part of Good Shepherd Parish, was built in 1916 to serve Irish immigrant families who, before then, had to take long horse and buggy rides into town to attend Mass at Saint Mary of the Assumption Church in Biddeford.  Father Timothy P. Linehan, pastor of St. Mary, noted at the time, 'If you can't bring the people to the church, you bring the church to the people."
Timothy O'Connell, a prominent architect, who had previously designed Saint Mary of the Assumption and Saint André in Biddeford, as well as the Basilica of Saints Peter & Paul in Lewiston, was called upon to do the work.  A biographer once wrote that O'Connell "was a person of sensitivity to those populations for which he designed buildings," and that was certainly the case at Saint Brendan. While not as grand as the earlier projects, it is a perfect fit for the seaside community.
"He designed this little gem of a worship place with the same dignity he gave to that monumental church in Lewiston. What a tribute to the architect's care for his particular project," the bishop said.
Contractor W.H. Tibbetts of Biddeford completed the chapel in 1916, and it remains much today as it did then.  You'll find no stained-glass windows and few adornments.  The only statues are a small one of the Blessed Mother and one of Saint Patrick.  Still, the knotted pine, exposed beams, and maple pews create a sense of warmth and welcome.
"It's just a beautiful, peaceful spot," said Christine Lehane, who has been attending Mass in the chapel since 1970. "I look around and think, 'This is the same place that people have looked at for 100 years, the original windows.' It's just beautiful to me."
Originally, the chapel was to be named St. Mary Star of the Sea, but instead, Saint Brendan was chosen in honor of the navigator saint who was born in Ireland. Saint Brendan is the patron of sailors and travelers, appropriate in an area known for its summer visitors.
"It's so convenient for folks who live down here by the beach. People remark that this chapel is very welcoming and friendly to visitors," said Ken Buechs, who, along with his wife, Bonnie, helps care for the church. "We have no permanent congregation. Most of these folks are vacationers or summer residents."
But despite their part-time residency, they are still faithful to their beloved chapel, as evidenced by the more than $100,000 raised eight years ago for needed repairs and renovations.
"My family are all immigrants. Many of them worked in these houses in Biddeford Pool when they immigrated, so we've always had a special attachment to this chapel, which served those people and met their needs," said John Tighe, who spends five months in Maine and the rest of the time in Nashville, Tennessee. "It's just always been very special to us. It means a lot to us."
"We have a dedicated staff of ministers, lectors, servers, as well as greeters here, people who have been doing it for many years," said Buechs. "We have up to 12 weddings a year. We have baptisms."
Saint Brendan opens seasonally from Memorial Day to Columbus Day. Most often, Mass there is celebrated by Father Ron Labarre, who keeps an active presence despite being retired from active ministry.  Churchgoers say he is part of the chapel's charm, as well. 
"He is a very warm, open person, a loving person, and he imparts that to this chapel," said Dave Noon, who first came to Saint Brendan more than 50 years ago.
Nearly 250 people filled the chapel for the anniversary Mass. Every pew was filled, with others seated in the balcony, and still others standing just outside the doors.
"The Mass was extraordinary. Every Mass is extraordinary, but it was a great privilege to have the bishop come," said Lehane. "It was very special to bring a lot of people together, who don't always see one another because they are at a different liturgy on Saturday."
"Our coming together for this celebration reminds us of the bond we have as Church and of the need we have to work together for the good of the people of God," the bishop said. "I congratulate you on this anniversary, and in our prayer together, we can ask God to continue to bless your parish community of the Good Shepherd and strengthen it in faith and charity."